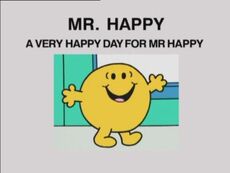 A Very Happy Day for Mr. Happy is the 5th episode of the third season of Mr. Men and Little Miss. It was first broadcast on 14 January, 1997.
Plot
It was such a beautiful day in Mister Land, and Mr. Happy (as usual) woke up with a smile. He went around town to say hello to everyone, but after hearing sad replies from Little Miss Greedy, Mr. Jelly, and Little Miss Neat, he started to think that it was going to be a sad day. Everyone heard about what happened to Mr. Happy and thought that he needed some help.
Mr. Small decided to see Dr. Makeyouwell to see what he says. After hearing what happened to Mr. Happy, Dr. Makeyouwell gave the note to Mr. Small. But, he said that it was for all of them, and because of that everyone came over to Mr. Happy's house and told him everything nice about him and today. Mr. Happy was so happy that he started to laugh out loud and soon, everyone joined in. What a happy day!
Characters
UK Voices
Geoffrey Palmer - The Narrator
Gordon Peters - Mr. Men
Jill Shilling: Little Misses
Trivia
Errors
Mr. Snooty's attitude towards Mr. Happy is out of character.
When Mr. Grumpy is seen among the crowd, his nose is yellow instead of dark blue.
There are two Mr. Happys in this episode. One in the crowd, and the real Mr. Happy in his house. Although, it's possible that the Mr. Happy in the crowd is actually Mr. Miserable (who became happy in Mr. Happy's original story).

However, the scene later revealed that was a recoloured Mr. Noisy.
Gallery