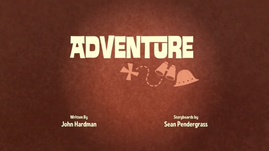 Adventure is a Season 1 episode in The Mr. Men Show.
Plots
Mr. Bump and Miss Whoops' Plot: Mr. Bump goes Bungee jumping with Little Miss Whoops.
Mr. Grumpy, Mr. Scatterbrain and Miss Helpful's Plot: Miss Helpful takes Mr. Scatterbrain and Mr. Grumpy on Safari and runs into Man-eating Lions who are hungry for their lunch making them get out of the jeep. The lions then chase after them and they then hide in the brambles with quicksand.
Mr. Nervous' Plot: Mr. Nervous imagines he's in the Arctic and gets chased by a polar bear. He is really buying a snow globe at Miss Scary's souvenir shop. (Cancelled in the UK)
Miss Daredevil's Plot: Miss Daredevil attempts to jump over Jolly Canyon, bringing harm to her assistant Little Miss Calamity.
Miss Naughty, Mr. Noisy, and Mr. Stubborn's Plot: Miss Naughty takes Mr. Noisy and Mr. Stubborn into the cave to find a Fangosaurus. Miss Naughty tries to fool them and her antics make them head back but Mr. Stubborn took them the wrong way. Soon a real Fangosaurus appears and played Miss Naughty like a ball and Mr. Noisy sounds his Megaphone to call for help after Mr. Stubborn took them deeper into the cave way making the Fangosaurus run out of the cave making a hole in the wall to fresh air.
Trivia
Mr. Noisy's noise was a siren, instead of his yell.
Community content is available under
CC-BY-SA
unless otherwise noted.