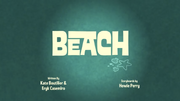 Beach is the eighth episode (second part of the fourth episode) of Season 1 of The Mr. Men Show.
Synopsis
Mr. Per(s)nickety receives more than a hotdog at Mr. Scatterbrain's refreshment stand; Mr. Grumpy defends his liver sausage sandwich from some greedy seagulls; and a parasailing lesson leaves Mr. Bump thinking of one word-"paramedics".
Plots
Mr. Persnickety and Mr. Scatterbrain's Plot: Mr. Persnickety wants to buy a hot dog from Mr. Scatterbrain, but ends up losing his appetite with Mr. Scatterbrain giving him the complete opposite.
Mr. Grumpy's Plot: Mr. Grumpy wants to enjoy his liverwurst sandwich, but is repeatedly interrupted by seagulls.
Mr. Nervous' Plot: Mr. Nervous imagines that he's lost at sea holding onto a dolphin. He is really wearing an floatie and blocking Mr. Rude's way.
Mr. Bump and Miss Whoops' Plot: Mr. Bump and Miss Whoops are going to parasail, but Mr. Bump ends up jumping off the boat and swims away from Miss Whoops after number of incidents.
Mr. Nosy and Mr. Small's Plot: Mr. Nosy and Mr. Small are going surfing, digging through Miss Helpful's cooler, and Mr. Nosy bounces Mr. Bounce off while he is reading a book.
Quotes
"Get...your...freaky...beaks...off...my...liverwurst! (liver sausage in the UK)"
— Mr. Grumpy while he was interrupted by the seagulls
Trivia
Mr. Strong Sings a song called Beachin' With The Boom Box. This song has three different music videos. The first is in the US version of the episode, the second is on the website, www.mrmen.com, and a short clip of the third can be found during the episode "Radio."
Everyone except for Mr. Messy, Mr. Noisy, Miss Naughty and Miss Scary appeared in this episode.
Mr. Grumpy's liverwurst sandwich appeared in three plots in the episode first it got caught by seagulls in Mr. Grumpy's plot and Mr. Bump found it in his plot then it appears at the end of Mr. Nosy and Mr. Small's plot.
Dub edits
"Liverwurst" is changed to "liver sausage".
Goofs
During the beginning and ending of this episode, Mr. Stubborn can be seen with goggles and snorkel in one shot, and there's Mr. Stubborn lounging on the beach towel in the next shot.
Gallery