Birds is an episode of the second season of The Mr. Men Show.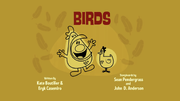 Plots
Mr. Quiet's Plot: Mr. Quiet is meditating, but gets bothered by birds. He tries to relocate them by moving the tree in his backyard, but that ends up failing when Little Miss Chatterbox gives him her tree
Little Miss Sunshine and Mr. Grumpy's Plot (removed in the UK version): Mr. Grumpy advertises for Little Miss Sunshine's Bird Songs album. Much to his annoyance
Mr. Bump and Mr. Tickle's Plot: Mr. Tickle shows Mr. Bump how to tickle birds on his show, "The Tickle Expert". He shows Mr. Bump how to tickle parrots by sneaking up behind them and turkeys by sounding like the. Soon, an large hooked-beak eagle picks up Mr. Bump and almost flies off with him but a tickle courtesy of Mr. Tickle stops the eagle from doing so but leads to Mr. Bump landing on the perch the eagle was on. Ouch.
Mr. Fussy, Mr. Messy, Mr. Rude, Mr. Nervous and Mr. Strong's Plot: Mr. Fussy takes the Mr. Men out to see the Giant Blue-Bellied Buzzards in Australia. Mr. Fussy tells the other Mr. Men to be nice and quiet because of how ferocious they can be. A Blue-Bellied Buzzard swoops Mr. Fussy up after scolding Mr. Messy for ruining his Binoculars and takes him to it's nest while the others rescue him. The mother then drops Mr. Fussy out of the nest and Mr. Strong saves him, but then, the branch he holds onto makes the Mr. Men tumble downward.
Trivia
Mr. Rude said "I'll give you fun!" for the second time in this episode, after he said it in Yard Work.
Mr. Quiet's zen garden appears for the second time. It's first time appeared in Gardens.
Scenes from this episode were leaked a month prior to the second season's premiere on Dagan Moriarty's animation reel on YouTube.
Gallery