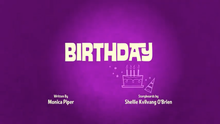 Birthday is the forty-fourth episode (second part of the twenty-second episode) of Season 1 of The Mr. Men Show.
Synopsis
Mr. Rude shops for the perfect present at Little Miss Helpful's gift shop; Mr. Scatterbrain gets wrapped up in gift-wrapping; and Mr. Stubborn and Mr. Messy decide it's more fun to make a cake without directions.
Plots
Trivia
This is one of three episodes to have a consistent plot, focusing on Mr. Grumpy's birthday. All segments loosely relate to the plot. The others are "Dillydale Day" and "Circus".
This is the first of only two episodes where an occasion for someone is celebrated. The other is "Surprises".
Animation from "Fair", "Dance", and "Restaurants" is reused in the visals for "The Birthday Song".
The movie Mr. Grumpy is watching is Gamma Goo From Planet 9 (originally from "Movies").
This is the only episode where there is a general main character. The others are just about the Mr. Men and what they do with things, or how they do something, or what they do in general.
Mr. Tickle is not at Mr. Grumpy's birthday party with everyone.
Dub edits
At the end of Mr. Stubborn and Mr. Messy's plot, in the US version, Mr. Stubborn shouts "This stove is CHEAP!", but in the Australian version, that line is omitted.
"The Birthday Song" is instead sung by Mr. Nervous, with Mr. Grumpy giving some spoken lines.
Gallery