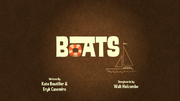 Boats
is the ninth episode (first part of the fifth episode) in Season 1 of
The Mr. Men Show
.
Synopsis
Little Miss Whoops shows off her sea legs to a less than impressed Mr. Quiet; Mr. Lazy discovers new lands aboard Mr. Scatterbrain's singing boat; and Mr. Happy's synchronized swimming turns silly on the deck of the S. S. Dillydale.
Plots
Miss Whoops, Mr. Quiet, Mr. Happy and Miss Sunshine's Plot: They are on Good Morning Dillydale and they talk about the safties of sailing but Miss Whoops accidentally unties the knots for the main sail and spinnaker. While she continues to speak, she bumps Mr. Quiet out of the boat twice. Sick of being with Miss Whoops, Mr. Quiet walks from the ocean to the studio and gives Mr. Happy and Miss Sunshine the life preserver.
Mr. Nervous' Plot: Mr. Nervous imagines he's lost in the middle of the ocean surrounded by sharks, but he is really in a pool with Miss Naughty wearing a shark fin. (Not in the UK)
Mr. Lazy and Mr. Scatterbrain's Plot: Mr. Lazy goes for a short ride in Mr. Scatterbrain's boat but ends up in the South Pole with musical penguins, seals and polar bears (that don't live in the South Pole).
The Boat's Plot: The Mr. Men and Little Misses are having a good time until a storm makes them presumably and exactly sick. (probably caused by Mr. Tickle, though he says "Don't look at me!")
Mr. Stubborn and Miss Calamity's Plot: Mr. Stubborn (Captain Stubborn) and Miss Calamity an iceberg hits and sinks the ship (S.S Stubborn), but then Mr. Scatterbrain saves her lives except for Mr. Stubborn, who tells them to stop singing.
Characters
Bumpers
Miss Daredevil zooms by the other characters with their water transport, which causes it to sink.
Mr. Quiet rowing his canoe.
Mr. Nosy and Mr. Small peddling their boat.
Mr. Happy, Miss Calamity, Mr. Messy, Mr. Quiet, and Mr. Persnickety rowing a boat with Mr. Noisy guiding them.
Miss Naughty is in a pirate ship and costume and tries to stop Miss Daredevil with a plunger cannon, only for the ship to be pulled away and leaving Miss Naughty in the water.
Trivia
Mr. Stubborn does the tune of It's A Small World in this episode while on his floatable chair.
In the US version, after Mr. Scatterbrain saves Miss Calamity, Mr. Stubborn shouts "Stop singing!", but in the UK, he shouts "Cheap singing!".
Captain Stubborn's big cruise ship hitting an iceberg and sinking is a reference to Titanic as it sunk when it hit an iceberg.
Community content is available under
CC-BY-SA
unless otherwise noted.