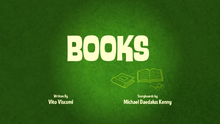 Books is the seventh episode (first part of the fourth episode) in Season 1 of The Mr. Men Show.
Synopsis
Mr. Bump finds himself in a bind at the bookmaking factory; Mr. Rude practices his manners at Little Miss Chatterbox's house; and Mr. Per(s)nickety's reading opportunities are shelves after his visit to the library.
Plots
Mr. Bump and Miss Whoops' Plot: Mr. Bump gives Miss Whoops a tour of the book factory but she broke the machine and Mr. Bump got caught in there and got caught into a book shape. Then Mr. Nervous opens the book Mr. Bump turned into and gets afraid and says "It's alive!".
Mr. Rude, Miss Chatterbox, Mr. Strong and Mr. Messy's Plot: Mr. Rude gets an audiobook about being polite while having lunch with Miss Chatterbox, Mr. Strong, and Mr. Messy. In the end, it doesn't turn out well. (Deleted in Japan)
Miss Helpful's Plot: Miss Helpful advertises her new book called "Miss Helpful's Helpful Hints for Everyday Living", which gives everyone catastrophic results.
Mr. Persnickety and Mr. Noisy's Plot: Mr. Noisy is the librarian at the library and tries to tell Mr. Persnickety not to be so loud, even though he's the one making all the noise.
Mr. Grumpy, Miss Sunshine and Mr. Small's Plot: Mr. Grumpy sells his autobiography and waits to get his autograph. When Mr. Small showed up he bought all of them.
Trivia
There is a

Dance Video

featuring Mr. Nervous with reused animation from the episode most likely to fill time. It was removed in the UK broadcast.
Books might have taken place after Inventions. (based on Mr. Rude's behavior in this episode and Miss Chatterbox inventing the polite-o-phone)
Mr. Noisy's Video is in this episode.
Mr. Rude was listening to his audiobook "How to be Polite" with an iPod nano (it looks a lot like the older skinny Nanos).
First appearance of Angry Heads.
In this episode, instead of the usual "I'll give you ______," Mr. Rude says, "I'll unlock something."
Mr. Rude's Video is in this episode.
Mr. Stubborn is not in this episode.
Gallery