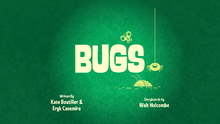 Bugs is the thirty-fourth episode (second part of the seventeenth episode) of Season 1 of The Mr. Men Show.
Synopsis
Little Miss Whoops' ant farm wreaks havoc on the Dillydale express; Little Miss Naughty's bug business proves bountiful; and Mr. Stubborn denies his irrefutable insect infestation.
Plots
Miss Calamity, Miss Whoops, Mr. Lazy and Mr. Tickle's Plot: Miss Calamity goes for a ride on a bus called The Tickle Express with Miss Whoops (who has her ant farm with her). Mr. Lazy was on the bus with his sloth. Mr. Tickle tickles everyone and the bus soon crashed into a tree.
Miss Scary and Mr. Bump's Plot: Miss Scary tells Mr. Bump to wear a spider costume, but Mr. Bump is swatted by Mr. Nervous and Miss Sunshine. In the end, Mr. Bump is hit by Mr. Grumpy's car and he's left on the road. (Not in the UK)
Miss Naughty's Plot: Miss Naughty is pretending to be a roach exterminator. She puts her roach Clyde in people's house. First she did it to Mr. Nervous then Miss Sunshine. Then she did it to Mr. Messy who made friends with Clyde.
Mr. Scatterbrain's Plot: Mr. Scatterbrain advertises for his Super Sticky Fly Paper.
Miss Chatterbox and Mr. Stubborn's Plot: Miss Chatterbox comes to visit Mr. Stubborn and tries to convince him that he has a termite problem. The next morning they had eaten up his whole house.
Trivia
Mr. Tickle crashing into a pond also happens to Mr. Stubborn in Getting Around.
The people Miss Naughty send her roach to were the same people that wacked Mr. Bump in his spider costume.
Deleted scene
Mr. Tickle tickling Miss Calamity are tickling ants all over her, both laughing heard offscreen. Meanwhile. Miss Whoops has none of the ants on the ant farm. Miss Whoops hollered. "How are you doin' back there, Mr. lazy?" Mr. Lazy states "Take you time, I'm often."
Quotes
Miss Chatterbox: Ahoy there, matey! You lost your pirate, Mr. Stubborn!
Mr. Stubborn: That pirate was CHEAP!
Miss Chatterbox: Oh! You didn't hear it for me, but I really think you have termites!
Mr. Stubborn: That table was CHEAP. Game over. And it's getting late and I have to work in the morning.
Miss Chatterbox: Are you sure I can't give the name of an exterminator, I know a really, really good one!
Mr. Stubborn: No, good night!
Miss Chatterbox: Okay! See you, Mr. Stubborn!
Gallery
Community content is available under
CC-BY-SA
unless otherwise noted.