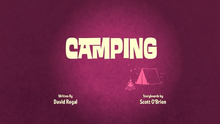 Camping is a season 1 episode of The Mr. Men Show.
Synopsis
Mr. Stubborn reinvents the tent assembling process; a chatty Little Miss Chatterbox fouls up the search for the Horn-thrusted Red Spangler; and some curious creatures have a field day with Mr. Grumpy's camping gear.
Plots
Mr. Nervous' Plot: Mr. Nervous imagines he's in a scary forest, but he's really in the car with Mr. Rude. (Not in the UK)
Miss Helpful and Mr. Stubborn's Plot: Miss Helpful is trying to help Mr. Stubborn put up his tent. Mr. Stubborn thinks it's so simple a child could do it. However, the tent goes bouncing around and hits Mr. Stubborn, who then declares the tent is definitely cheap.
Mr. Persnickety and Miss Chatterbox's Plot: Mr. Persnickety has gone to look for the Horn Thrusted Red Spangler with Miss Chatterbox. It then appears on his head (but he completely ignores Miss Chatterbox's attempts to tell him it was on his head) and lays an egg on him.
Mr. Grumpy's Plot: Mr. Grumpy is trying to read his newspaper but gets bothered by the woodland natives.
Miss Daredevil, Mr. Rude, Mr. Quiet, Mr. Bump and Miss Whoops' Plot: Miss Daredevil, Mr. Rude, Mr. Quiet, Mr. Bump and Miss Whoops go canoeing but Miss Whoops takes them down a wild river and knocks Mr. rude and Mr. Quiet overboard. Mr. Bump then falls down a waterfall as the others jump to safety.
Trivia
Mr. Nervous sang a song about Mr. Tickle in this episode.
Little Miss Chatterbox's video is in this episode.
When the tent hits Mr. Stubborn, he is dressed up as the Statue of Liberty.
This is the only time Miss Sunshine cries.
Goofs
When Mr. Nervous is dashing off from Mr. Rude's Car, His mouth is disappeared from one second.
Bumpers
Characters roast marshmallows.
Community content is available under
CC-BY-SA
unless otherwise noted.