The Mr. Men and Little Miss take their cars to the Car Wash.
Stories
Mr. Bump's Story: Mr. Bump gets a job at Mr. Strong's Car Wash. He thought that this was the only job that he thought that he wouldn't get hurt, until a claw came and took him inside. In the end Mr. Bump gets covered in wax.
Mr. Persnickity's Story: Mr. Persnickity washes his car by himself. But Mr. Messy, Mr. Lazy, Mr. Nosey, and Mr. Small keep saying he should go to a drive through car wash. Soon Miss Whoops crushes his car in her monster truck.
Little Miss Calamity's Story: Miss Calamity host a show called Driving With Miss Calamity. Today she takes Mr. Rude to The Dillydale Car Wash but things don't go well when her windows wouldn't close.
Mr. Nervous's Story: Mr. Nervous goes underwater in a sub, then gets attacked by a giant squid. It was shown that he really was holding up the line at Miss Scary's Car Wash. (not in UK)
Mr. Grumpy and Mr. Scatterbrain's Story: Mr. Scatterbrain visits The Genie In A Bottle Car Wash, where he meets Mr. Grumpy as a genie. But Mr. Scatterbrain keeps thinking Mr. Grumpy is a real genie.
Fun Facts
Trivia
This is the first time Mr. Persnickity's car gets crushed, in this case by Little Miss Whoops' monster truck, it would get crushed again by a boulder in Driving.
Mr. Scatterbrain kissed Mr. Grumpy in this episode.
In the United States, after his car got crushed, Mr. Persnickety said "Leave me to greed!" But in the United Kingdom, he said "Cleaning is my life!".
When Mr. Nervous is in the submarine, he references a book in his speech.
Remarks
Mr. Grumpy states to Mr. Scatterbrain that he is not a genie, despite he teleported him to the car wash earlier in the episode.
Gallery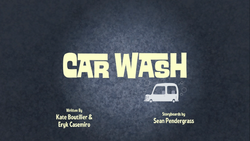 Community content is available under
CC-BY-SA
unless otherwise noted.