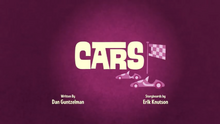 Cars is a Season 1 episode of The Mr. Men Show.
Synopsis
A stalled Mr. Grumpy decides between riding with Little Miss Sunshine or being eaten by birds; Little Miss Daredevil takes her new racecar for a spin; and Mr. Scatterbrain's short cuts leave Mr. Bump bent out of shape.
Plots
Mr. Grumpy and Miss Sunshine's Plot: Mr. Grumpy's car breaks down and Miss Sunshine gives him a ride but not for long.
Miss Daredevil, Mr. Quiet, Miss Scary, Miss Helpful, Mr. Rude, Mr. Strong, Mr. Small and Mr. Nosey's Plot: Little Miss Daredevil and her assistant Mr. Quiet enter The Dillydale Race with Miss Scary with Miss Helpful, Mr. Rude with Mr. Strong, and Mr. Small with Mr. Nosey. Miss Daredevil wins the race.
Mr. Nervous' Plot: Mr. Nervous imagines he's driving a BMW. In reality, he's just playing a remote control car and Miss Scary wins. (Not in the UK)
Mr. Persnickety and Mr. Stubborn's Plot: Mr. Stubborn sells a rusty car for Mr. Persnickety. But has a huge argument about buying and not buying it.
Mr. Bump and Mr. Scatterbrain's Plot: Mr. Bump gets a ride home from the hospital from Mr. Scatterbrain, which results in lots of pain.
Trivia
Mr. Metal makes a cameo long before Robots even aired in this episode (this episode aired in 2008 whereas Robots aired in 2009)
The radio on Miss Sunshine's car plays "The Boogie's Got Me" from "Music", "Big Mess" from "Cooking", and the series' theme song.
The track Mr. Nervous and Miss Scary were racing on resembled Figure 8 Circuit from Mario Kart DS.
Miss Whoops's plot in Paint might have taken place right after Mr. Bump's plot in this episode, because Mr. Bump is being a hitchhiker in Paint, and his roof split due to a headlight in this episode.
Mr. Stubborn unintentionally used reverse psychology on Mr. Persnickety.
Dub edits
In the UK, an extra line from Mr. Stubborn is added in: "The customer is always cheap."
Gallery