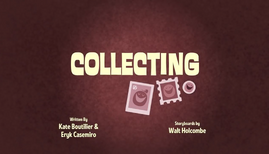 Collecting is the twenty-seventh episode (first part of the fourteenth episode) of Season 1 of The Mr. Men Show.
Synopsis
Mr. Scatterbrain's collection liven up the set of Good Morning Dillydale; Little Miss Calamity wins a precarious prize; and Mr. Nervous survives the perils of playtime!
Plots
Quotes
Mr. Rude: For once... That was not me!
Videos
UK Dub:
Trivia
Little Miss Calamity says she didn't like frogs in this episode, but she has a pet frog in Boo Boos/Doctors and Nurses. It's possible that she got rid of him between Boo Boos and this episode however.
Mr. Noisy's voice in the scene transition is retained in the dub.
Dub edits
When the vacuum is about to explode, in the US version Little Miss Helpful says "She's gonna blow!", while in the UK version she says "It's going to explode!".
Bumpers
Characters are showing their collection of things.
Gallery