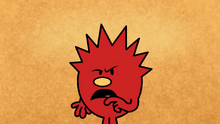 Dillydale Day is an episode of The Mr. Men Show.
Plots
Little Miss Chatterbox's Plot: Mr Happy welcomes Little Miss Chatterbox who wrote a song about Dillydale. But her guitar wouldn't work.
Mr. Grumpy's Plot: Mr. Grumpy wants to stay home and watch TV. However, Mr. Strong comes to visit, which annoys Mr. Grumpy (Deleted in the UK Version).
Mr. Happy's Plot: Mr. Happy hosts the play as we learn the history of how Dillydale came to be.
Mr. Nervous' Plot: Mr. Nervous makes balloons, but is terrified about what both Miss Naughty and Miss Scary want.
Mr. Bump's Plot: Mr. Bump and Miss Whoops clean up the streets filled with confetti, however, it results to another disaster for Mr. Bump.
Bumpers
Miss Sunshine sets up the food for the celebration.
Fun Facts
Trivia
This is the first and only episode Paul Greenberg wrote. As such, this is the only time he used his real name in the show instead of his pyedsuom, Aaron Albertus.
Remarks
The garden gnome vanished after the next scene.
Goofs
Miss Chatterbox and Mr. Stubborn are missing when the camera faces the Mr. Men and Little Misses watching the play.