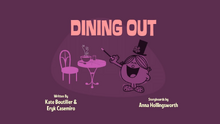 Dining Out is the seventeenth episode of Season 2 of The Mr. Men Show.
Plots
Mr. Fussy and Miss Scary's plot: Mr. Fussy and Miss Scary go to Miss Magic restaurant to order a drink, but Miss Magic causes havoc!
Mr. Rude's plot (Deleted In The UK version): Mr. Rude ads for his new restaurant, Chef Rude.
Mr. Grumpy's plot: Tic-Tac-Tickle is the only restaurant where you can get food and a tickle, but when Mr. Scatterbrain is your waiter and Miss Chatterbox comes with you...
Mr. Stubborn, Mr. Nervous and Mr. Quiet's plot: At Miss Naughty's restaurant, anything can be bad, like exploding baked beans! But when her plans backfire on her...
Transcript
The transcript for Dining Out can be seen here.
Trivia
This is the third time Mr. Tickle and Mr. Scatterbrain sing Tickle It Out (Farm, Arts & Crafts).
This is the second time Mr. Tickle plays the accordion, the first being Circus.
The sound when the snail slithers away in Chef Rude, is the same sound Jumpman (formerly Mario) makes when he walks in the game, Donkey Kong.
Mr. Stubborn is presumably a King in his plot, becauses he was bossy at Mr. Quiet and Mr. Nervous
Both Cooking and Dining out have a similar plot
In the UK version, Little Miss Chatterbox says prawn cocktail crisps rather than saying dried cranberries in the USA version.
Community content is available under
CC-BY-SA
unless otherwise noted.