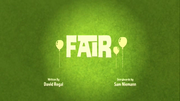 Fair is the fifteenth episode (first part of the eighth episode) of Season 1 of The Mr. Men Show.
Synopsis
"Whack a Clown" proves no match for Mr. Stubborn, Mr. Scatterbrain and Mr. Rude learn there's more to life than pie and Mr. Grumpy's patience is "stretched" at the Fun House.
Plots
Mr. Stubborn, Mr. Noisy and Miss Sunshine's plot: Mr. Stubborn tries to win a cuddly toy for Miss Sunshine in the whack-a-clown game but Mr. Noisy tells him he keeps missing. He even knocks poor Mr. Bump into the game.
Mr. Happy, Mr. Quiet and Miss Daredevil's plot (US version only): Mr. Happy announces that Mr. Quiet tries to launch Miss Daredevil out of the cannon and onto the trampoline.
Mr. Rude and Mr. Scatterbrain's plot: Mr. Rude and Mr. Scatterbrain enter the pie eating contest. It ends in a pie fight. It the end Mr. Scatterbrain's goat, Blueberry was claimed as the winner by default.
Mr. Grumpy and Miss Chatterbox's plot: Miss Chatterbox takes Mr. Grumpy into a funhouse. First they go through the loop de loop tunnels. They then go through a mirror maze. Then they see a tunnel that leads out and Mr. Grumpy would have to go through without getting squashed by the robo elephant legs or he'll have to go all the way back. Miss Chatterbox went through quickly and Mr. Grumpy got squashed a times made it through and Miss Chatterbox took him to a ride.
Musical number: All's Not Fair by Little Miss Calamity.
Miss Naughty and Mr. Persnickety's plot: Miss Naughty signs Mr. Persnickety up for pig catching. He then gets chased by a colossal pig and he won a trophy.
Characters
Quotes
Mr. Stubborn: That cuddly toy is cheap!
'Miss Naughty... You have that look in your eyes.'
— Mr. Per(s)nickety after Miss Naughty signed him up for the pig catching contest
Trivia
Mr. Messy is absent in this episode.
When Mr. Grumpy looked in the mirror, he had Mr. Scatterbrain's body shapes.
A scene in Miss Naughty and Mr. Per(s)nickety's plot was reused in "Heatwave" on Mr. Rude's TV.
Dub edits
The word "night-lights" is changed to "torches" when Mr. Grumpy talks about stumbling around in the dark.
Gallery