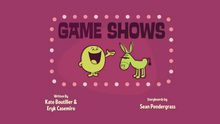 Game Shows is the eighth episode of Season 2 of The Mr. Men Show.
Plots
Mr. Nosey and Mr. Small's Plot: Mr. Nosy and Mr. Small host Guess What's in the Box, where you just do what it says!
Advertisement (US version only): The Dillydale Super Challenge, hosted by Mr. Stubborn.
Miss Daredevil's Plot: Miss Daredevil hosts I Dare You, where two teams participate in difficult events. But Mr. Bump and Miss Whoops let themselves down!
Mr. Happy, Miss Sunshine, Mr. Stubborn, Mr. Fussy and Miss Giggles' Plot: Mr. Happy and Miss Sunshine host What Do You Know About Music?, but Mr. Stubborn keeps ruining the game!
Transcript
The transcript for Game Shows can be seen

here

.
Trivia
This is second time What Do You Know About Music? is shown (the first was from Music).
This is the first and only times Guess What's In the Box and I Dare You are shown.
The sound from the Sonic the Hedgehog series from when rings are gained and then lost is heard within this episode.
In the first plot, The Box looks similar to a question mark block from the Super Mario series.
Scenes from this episode were leaked a month prior to the second season's premiere on Dagan Moriarty's animation reel on YouTube.
This is the 2nd time Little Miss Whoops forgot to attach a bungee cord to someone.
Dub edits
In the final segment, Mr. Stubborn nonsensically exclaims "your suit is cheap!". "Suit" is changed to "style" in the dub, to make it more fitting.
Gallery