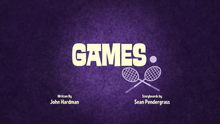 Games is the forty-first episode (first part of the twenty-first episode) of Season 1 of The Mr. Men Show.
Synopsis
Mr. Scatterbrain wins a horseshoe game by a horse, Mr. Nervous loses himself in a maze; and The Dillydale Badminton Championship serves a few hits to Mr. Bump.
Plots
Mr. Happy, Mr. Rude, Mr. Lazy and Mr. Scatterbrain's Plot: Mr. Happy plays a game of horseshoes with Mr. Rude and Mr. Lazy. Mr. Scatterbrain soon arrives with his horse and is declared to be the winner.
Mr. Nervous' Plot: Mr. Nervous imagines he's lost in a haunted maze with colourful ghosts. In reality he's just playing Pac-Man. (Not in the UK)
Miss Calamity, Miss Whoops, Mr. Bump, Mr. Strong and Mr. Bounce's Plot: Miss Calamity hosts the Badminton Champions but the players and her got injured.
Mr. Stubborn and Mr. Grumpy's Plot: Mr. Stubborn goes bowling and gets Mr. Grumpy annoyed when he doesn't play the game right. (Deleted in Japan)
Mr. Persnickety, Mr. Tickle and Mr. Noisy's Plot: Mr. Persnickety, Mr. Tickle and Mr. Noisy are playing golf. But Mr. Tickle and Mr. Noisy constantly break the silence in a game of golf.
Quotes
Mr. Stubborn: You cannot admit when you've made a mistake!
Mr. Grumpy: Oh, yes I can! In fact the first mistake I made tonight was agreeing to go bowling with you!
Mr. Stubborn: And the second was stepping over the line!
Mr. Grumpy: Oh, crooked cucumbers, I quit! (He tosses his hat on the ground while Mr. Stubborn is tossing a bowling ball on the wood.)
---
Mr. Lazy: Wait a minute, Mr. Happy. You mean I have to throw something, like with my arm?
Mr. Rude: (sarcastically) No, Mr. Lazy, with your magic powers.
Mr. Lazy: I don't have any magic powers.
Mr. Rude: Uh, let's just play the game.
Trivia
Goof: In Mr. Happy's plot, Mr. Rude scores two leaners, which was four points. Mr. Scatterbrain scores a ringer, which is three points. However, Mr. Happy says Mr. Scatterbrain won/.
In the third plot, Mr. Bump is hit up into space and reappears in the last plot where he crashlands back to Earth at a golf course.
The game that appears in Mr. Nervous' plot looks similar to Pac-Man.
Mr. Rude is shown to be sarcastic in this episode, and Mr. Lazy is shown to be more literal than sarcastic.
Community content is available under
CC-BY-SA
unless otherwise noted.