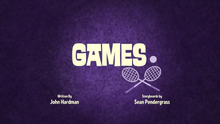 Games is the forty-first episode (first part of the twenty-first episode) of Season 1 of The Mr. Men Show.
Synopsis
Mr. Scatterbrain wins a horseshoe game by a horse, Mr. Nervous loses himself in a maze; and The Dillydale Badminton Championship serves a few hits to Mr. Bump.
Plots
Mr. Happy, Mr. Rude, Mr. Lazy and Mr. Scatterbrain's Plot: Mr. Happy plays a game of horseshoes with Mr. Rude and Mr. Lazy. Mr. Scatterbrain soon arrives with his horse and is declared to be the winner.
Mr. Nervous' Plot (US version only): Mr. Nervous imagines he's lost in a haunted maze with colourful ghosts. In reality he's just playing PAC-MAN.
Miss Calamity, Miss Whoops, Mr. Bump, Mr. Strong and Mr. Bounce's Plot: Miss Calamity hosts the Badminton Champions but the players and her got injured.
Mr. Stubborn and Mr. Grumpy's Plot: Mr. Stubborn goes bowling and gets Mr. Grumpy annoyed when he doesn't play the game right. (Deleted in Japan)
Mr. Persnickety, Mr. Tickle and Mr. Noisy's Plot: Mr. Persnickety, Mr. Tickle and Mr. Noisy are playing golf. But Mr. Tickle and Mr. Noisy constantly break the silence in a game of golf.
Transcript
The transcript for Games can be seen here.
Quotes
Mr. Stubborn: You cannot admit when you've made a mistake!
Mr. Grumpy: Oh, yes I can! In fact the first mistake I made tonight was agreeing to go bowling with you!
Mr. Stubborn: And the second was stepping over the line!
Mr. Grumpy: Oh, crooked cucumbers, I quit! (He tosses his hat on the ground while Mr. Stubborn is tossing a bowling ball on the wood.)
---
Mr. Lazy: Wait a minute, Mr. Happy. You mean I have to throw something, like with my arm?
Mr. Rude: (sarcastically) No, Mr. Lazy, with your magic powers.
Mr. Lazy: I don't have any magic powers.
Mr. Rude: Uh, let's just play the game.
---
Trivia
In the third plot, Mr. Bump is hit up into space and reappears in the last plot where he crash-lands back to Earth at a golf course.
The game that appears in Mr. Nervous' plot looks similar to PAC-MAN.
Mr. Rude is shown to be sarcastic in this episode, and Mr. Lazy is shown to be more literal than sarcastic.
Despite Mr. Nervous' plot being deleted in the UK dub, it still appears in the thumbnail on its official YouTube upload.
Goofs
In Mr. Happy's plot, Mr. Rude scores two leaners, which was four points. Mr. Scatterbrain scores a ringer, which is three points. However, Mr. Happy says Mr. Scatterbrain won.
Gallery