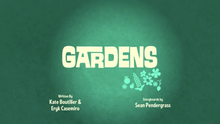 Gardens is a Season 1 episode in The Mr. Men Show.
Synopsis
Little Miss Scary shows off the prickly side of her House of Cacti; Little Miss Whoops and Mr. Scatterbrain add a signature touch to the care of Mr. Grumpy's garden; and Little Miss Chatterbox drops by Mr. Quiet's Zen garden.
Plots
Mr. Grumpy, Miss Whoops and Mr. Scatterbrain's Plot: Mr. Grumpy calls Miss Whoops' Garden Service. But when Mr. Scatterbrain and Miss Whoops arrive to take care of it, they mess up Mr. Grumpy's garden Causing Mr. Grumpy to get angry and start sobbing at the end.
Advertisement: Miss Scary's House of Cacti.
Mr. Quiet and Miss Chatterbox's Plot: While Mr. Quiet tries to meditate in his zen garden, noisy things come and annoy him.
Mr. Nervous' Plot (US version only): Mr. Nervous imagines he's in a rainforest. In reality, he's just buying a flower from Mr. Grumpy.
Songs
Trivia
Despite having his US voice retained in the UK dub, Mr. Scatterbrain pronounces "tomatoes" in the term used in the UK. This is odd since the way he pronounces other words, regardless if the dialogue is changed, is kept American.
Mr. Grumpy cried for the first time.
Goofs
At the very end of the episode, Mr. Grumpy's hat is not seen when the scene pans to him and Miss Whoops at his garden.
Gallery