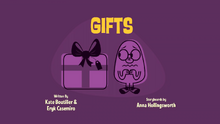 Gifts is a season 2 episode of The Mr. Men Show
Plots
Mr. Messy and Mr. Fussy's Plot: Mr. Fussy and Mr. Messy share a birthday. Green tagged presents are for Mr. Fussy and pink are for Mr. Messy. Mr. Nosy soon gets them mixed up.
Musical number (US version only): "Gift Wrap" by Mr. Messy.
Mr. Rude and Mr. Tickle's Plot: Mr. Rude gives gifts to other Mr. Men and Little Misses. Mr. Tickle wants to tickle people who buy gifts.
Mr. Nervous' Plot: Mr. Men and Little Misses try to give gifts to Mr. Nervous in his Barbershop. Miss Scary then gives him sponge monsters that grow when they come into contact with water.
Trivia
This is the only time Little Miss Daredevil is shown without her helmet.
Mr. Quiet is seen with 5 o'clock shadow.
Gallery