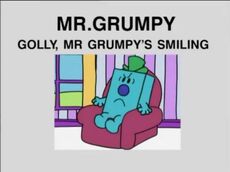 Golly, Mr. Grumpy's Smiling is the 20th episode of the second season of Mr. Men and Little Miss. It was first broadcast on 21 March, 1996.
Plot
Mr. Grumpy is fed up with the Mr. Men's unfailing happiness, he would much rather everyone was grumpy like him. And thanks to Little Miss Magic, no sooner said than done; all the Mr. Men start to be unpleasant with Mr. Grumpy… Until he realises that he has made a mistake and begs Little Miss Magic to make everything normal again.
Characters
Errors
When Little Miss Magic says "Grumpy, grumpy, everyone be grumpy", her mouth does not move.
When Walter pokes his tongue at Mr. Grumpy, he is supposed to be grumpy, but instead Walter is smiling.
When Little Miss Magic visits Mr. Grumpy at his house, it is sunny. However when she changes everything back to normal, it is shown to be raining again before clearing up.
When everyone says "Hello Mr. Grumpy", Little Miss Sunshine has a male voice.
It is unexplained why Mr. Happy is grumpy when Little Miss Magic casts the spell that makes everyone grumpy. It is only when she reverses the spell that it is revealed that Mr. Happy was grumpy because there was water inside his hammock.
Gallery
Community content is available under
CC-BY-SA
unless otherwise noted.