m

 

(8 intermediate revisions by one other user not shown)
Line 1:
Line 1:
−

[[File:Sem_Título.png|thumb]] Guess what's in the Box is a Game Show that Mr. Nosy and Mr. Small host.It has only been in Game Shows.

+

[[File:Sem_Título.png|thumb]] Guess 's in the Box is a that Mr. Nosy and Mr. Small host. in .

 
 
−

==Game Shows==

+

====

 
⚫
−

Contestants:

 
 
 
 
⚫
⚫
 
 
 
 
⚫
⚫
 
 
 
⚫
 
 

==Guesses==

 

==Guesses==

−

Mr. Rude: Donkey

+

Mr. Rude: Donkey

 
 
−

Little Miss Chatterbox: Giant Jellybean

+

Little Miss Chatterbox: Giant Jellybean

 
 
−

Mr. Grumpy: Refridgerator

+

Mr. Grumpy:

⚫
 
⚫
 
 
 
−

The answer was a Donkey.

+

The answer was a Donkey.

 
+
 
⚫
 
⚫
 
+

* Guess What's in the Box was only seen in [[Game Shows]].

 

[[Category:Shows]]

 

[[Category:Shows]]

 

[[Category:The Mr. Men Show]]

 

[[Category:The Mr. Men Show]]
---
Latest revision as of 15:45, 18 April 2020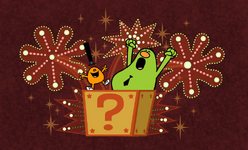 Guess What's in the Box is a game show that Mr. Nosy and Mr. Small host. In the game, the contestants guess what's inside a box and win whatever's in the box if they ask correctly.
Contestants
Guesses
Little Miss Chatterbox: Giant Jellybean
Mr. Grumpy: Refrigerator freezer
Little Miss Chatterbox won because of switching her answer with Mr. Rude's.
Trivia
Guess What's in the Box was only seen in Game Shows.
Community content is available under
CC-BY-SA
unless otherwise noted.