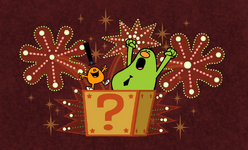 Guess What's in the Box
is a game show that Mr. Nosy and Mr. Small host. In the game, the contestants guess what's inside a box and win whatever's in the box if they ask correctly.
ContestantsEdit
Little Miss Chatterbox: Giant Jellybean
Mr. Grumpy: Refrigerator freezer
Little Miss Chatterbox won because of switching her answer with Mr. Rude's.
Guess What's in the Box was only seen in Game Shows.