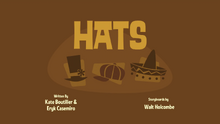 Hats is a Season 2 episode of The Mr. Men Show, Little Miss Magic made her first speaking appearance in this episode.
Plots
Mr. Fussy, Miss Magic and Miss Chatterbox's Plot: Mr. Fussy and Miss Chatterbox go to Miss Magic's magic hat shop to try a new hat. She gives Mr. Fussy unusual hats.
Miss Helpful's Plot: Miss Helpful advertises a glue for gluing people's hats on their heads. (Not in the UK)
Mr. Stubborn, Miss Sunshine and Mr. Nervous's Plot: Miss Sunshine and Mr. Nervous are riding in Mr. Stubborn's car. They try to keep their hats on their heads and Mr. Stubborn wears it over his eyes. Mr. Stubborn refuses to believe that he's driving off road. Everytime Mr. Nervous throws the hat off Mr. Stubborn he puts another hat on his head. They soon get chased by a bull and knocked into the water.
Mr. Grumpy, Mr. Rude, Mr. Tickle and Mr. Happy's Plot: It is hat day at the Dillydale Supermarket where Mr. Grumpy really wants to win the pipe organ. Mr Happy is judge. Soon all the hats come off of Mr. Tickle and Mr. Rude's heads and onto Mr. Grumpy's. Mr. Happy declares him the winner. (Deleted in Japan)
Trivia
Bumpers
Mr. Scatterbrain is trying out a new hat.
He inflates a hat that quickly deflates.
His hat has a jetpack that picks him up.
He pours water on his foam hat that grows quickly.
Gallery