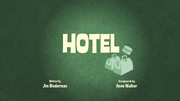 Hotel is the forty-third episode of the first season in The Mr. Men Show. This episode centers around the Mr. Men and Little Misses at the Dillydale hotel.
Synopsis
Mr. Scatterbrain books Mr. Happy into the Dillydale Hotel; Mr. Grumpy proves a less than cheerful concierge and Mr. Per(s)nickety's room unexpectedly houses unwelcomed trouble.
Plots
Mr. Happy and Mr. Scatterbrain's Plot: Mr. Happy checks into The Dillydale Hotel. But Mr. Scatterbrain checks him in with a strange way.
Mr. Persnickety, Mr. Messy, Mr. Bounce and Mr. Lazy's Plot: Mr. Persnickety checks into his room at The Hotel. But he has to share a room with Mr. Messy and Mr. Bounce. Then he tries to call Mr. Lazy in the lobby but he was too lazy to help.
Mr. Nervous and Miss Whoops's Plot: Mr. Nervous gets a souvenir at Little Miss Whoops's Souvenir Shop at The Hotel. But he keeps getting scared of what is there.
Mr. Happy, Miss Sunshine, Mr. Messy, Mr. Fussy and Mr. Rude's Plot (US version only): Mr. Happy, Miss Sunshine, Mr. Messy, and Mr. Fussy are in the pool, but Mr. Rude farts in the water and everyone leaves.
Mr. Grumpy and Mr. Tickle's Plot: Mr. Tickle hires Mr. Grumpy to run the front desk and doesn't care about what the guests want. In the end Mr. Tickle gives Mr. Grumpy a tickle hug.
Trivia
Goofs
In the scene when Mr. Rude farts Mr. Happy's head was shown when the heads shouted "MR. RUDE!" when he was shown next to Miss Sunshine.

In addition, Miss Sunshine can be heard shouting "MR. RUDE!" when she's not there.
Dub edits
In the scene where Miss Calamity is flying through an asteroid belt with Miss Daredevil's rocket boots, she says "oh, sweet merciful cupcakes!" but in the UK dub, it is changed to her usual catchphrase "what a calamity!".
Gallery