Lake is the sixth episode of the first season in The Mr. Men Show. This episode centers around the Mr. Men and Little Misses spending their day in the lake.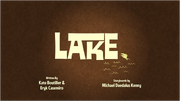 Plots
Mr. Rude's Plot: Mr. Rude is trying to blow up a rubber dinghy, but blows up like a balloon and soon comes down. Mr. Strong then accidentally destroys it. (Removed in the UK version)
Mr. Happy and Mr. Stubborn's Plot: Mr. Stubborn is rowing the wrong way to the stream and refuses to listen to Mr. Happy saying that he's going towards some dangerous currents.
Mr. Bump, Miss Daredevil and Miss Helpful's Plot: Mr. Bump is water skiing on Miss Daredevil's boat with Miss Helpful unsteadily.
Mr. Nervous' Plot: Mr. Nervous imagines that he's in the Desert and a cannon fires at him. It is really shown that he is playing Beach Volleyball with Mr. Grumpy, Mr. Bounce, Mr. Strong, Miss Scary and Miss Chatterbox. The ball then gets knocked into the lake and eaten by a big fish and they then use Mr. Bounce as the ball instead.
Mr. Scatterbrain and Mr. Persnickety's Plot: Mr. Scatterbrain gives his pet named Sunscreen to Mr. Persnickety and annoys people at the lake with his musical monkeys and penguins.
Trivia
Mr. Rude's plotline was absent in the UK version because it was unpopular.
This is the first episode that Mr. Rude farted. This will become a running gag of the series.
Everyone except for Mr. Tickle and Mr. Messy appeared in this episode.
Community content is available under
CC-BY-SA
unless otherwise noted.