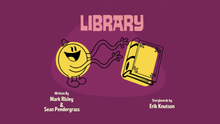 Library is a Season 2 episode of The Mr. Men Show
Plots
Mr. Noisy and Mr Quiet's Plot: Mr. Noisy gives a Mr. Quiet a tour of the library, while he manages to ruin most of the tour with his loudness. As in a previous episode, he keeps telling people to be quiet even though he's the one making all the noise. Worse is to follow for Mr. Quiet as he is assigned to work with Miss Giggles and Miss Chatterbox.
Advertisement (US version only): Little Miss Daredevil's Mega Moblie Library.
Mr. Bump's Plot: Mr. Bump gets a tickle if he doesn't return his book by 9:00am. The next day, he woke up at 8:40am and he was just at the library at 8:58am when a a Meteorite hit him, slowing him down, and he got another tickle after getting to Mr. Tickle at 9:01am. The next day, Miss Helpful put Mr. Bump in a Plastic Bubble but he couldn't give Mr. Tickle the book so he was tickled out of the library (and hit by a herd of Elephants who free him from his bubble).
Miss Naughty's Plot: Miss Naughty switches book covers to fool people. Because of this, Mr. Nervous, Mr. Fussy, Mr. Rude, and Mr. Messy all have a complaint to Mr. Grumpy the Librarian and demands Miss Naughty to put all the book covers back to the right books. She refuses and runs away from the library, but crashes into a book cart and lands in Mr. Scatterbrain's Marshmallow Mix. In the end, Miss Naughty starting bawling.
Trivia
Mr. Messy got cleaned by Miss Naughty in this episode.

This is the first time that Mr. Messy was clean.

This is the second episode to have the words "Coming through" First was in Sightseeing.
Miss Naughty made Mr. Fussy read a book about mud disguised as a book about personal cleanliness, Mr. Nervous about spiders disguised as a book about puppies, Mr. Rude about table manners disguised as a book about the art of farting, Mr. Messy about personal cleanliness and Mr. Scatterbrain about how to make your own marshmallow mix disguised as a book about gorillas.
Mr. Nervous appeared in every segment in this episode.
Dub edits
When Mr. Messy approaches the other characters cleaned, "this ain't right!" is changed to the more proper "this isn't right!".
When Little Miss Naughty lands in Mr. Scatterbrain's marshmallow topping, "Your marshmallow has ruined everything!" is changed to "It wasn't meant to be lucky! It's meant to be naughty!"
Quotes
Mr. Bump: Oh, not my day
Mr. Fussy: Table manners? Ooh! That could be interesting
Mr. Messy: Shazam! Thus ain't right!
Mr. Fussy: Mr. Messy, you're clean!
Mr. Messy: I know. I took home a book that I thought was about mud. But it was really about keeping yourself clean! Before I knew it, I showered, shaved, and combed my hair! Now look at me!
Mr. Grumpy: Wait a Minute! I think someone switched these book covers!
Bumpers
Mr. Stubborn tries to get a book.
The bookcase falls onto him.
Same as before but the book flies out.
Mr. Bump helps him but another bookcase lands on him by Miss Whoops.
Gallery