Little Miss Bad

Book No.

32

Release Date

3 April 2003

Preceded by

Followed by
Little Miss Bad is the thirty-second book in the Little Miss series by Roger Hargreaves and the second one created by Adam Hargreaves.
About her
Colour: Hot Pink (sometimes lavender)
Shape: Round
Gender: Female
Personality: Mischievous, Troublesome, Playful, Naughty, Badly behaved, Disobedient, Trickster, Cheat, Deceiver
Hair: Black in bull horns (red in some artworks)
Love: None
Family: Unknown
Friends: Little Miss Naughty, Little Miss Scary, Little Miss Trouble, Mr. Cheeky, Mr. Mischief, Mr. Rude
Rivals: Mr. Good, Little Miss Sunshine
Job: Playing pranks worse than Little Miss Naughty.
Features: Violet bows (yellow in some artworks)
Story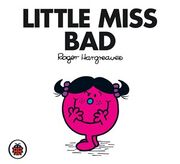 Someone has been doing bad things. Someone swapped Mr. Snooty's tennis chords for spaghetti, put toothpaste in Mr. Greedy's cakes, covered Little Miss Splendid with ink, painted cracks on Mr. Worry's house, fills Little Miss Neat's house with water and even cut Mr. Forgetful's car in half! Can you guess? Little Miss Bad.
So, Little Miss Sunshine has an idea. She has a fake contest to see who did the worst thing in the last week, with first prize getting a holiday. On the day of the contest, Little Miss Bad goes first, but since she couldn't decide what her worst trick was, she describes all her tricks at once, giving her game away. She apologises and helps everyone restore things to normal.
And not surprisingly, Little Miss Bad's example shows Mr. Mischief not to reveal his tricks!
International publications & translations
This is a list of alternate titles for this book being published internationally.
Madame Farceuse (French)
恶作剧小姐 (China)
나빠양 (Korean)
خانم کوچولوی شرور (Persian, Gohar Danesh)
خانوم بدجنس خانوم (Persian, Panosht)
ناقلا خانم (Persian, Ghadiyani)
Lille Frøken Styg (Danish)
Miss Böse (German)
わるいちゃん (Japanese)
Senhora Má (Portuguese)
壞心小姐 (Taiwan)
Η κυρία Ενοχλητική (Greek)
Miss Malota (Spanish)
Mała Złośnica (Polish)
List of characters
This is a list of Mr. Men, Little Miss and other special characters that appear in this book.
Title character other appearances
Trivia
Little Miss Bad bears a strong resemblance to Little Miss Trouble. The only difference they have is their own colour scheme. That, and their hairstyles are slightly different. Their relationship is unclear.
In some promotional artwork along with a Happy Meal toy in an international McDonald's promotion, Little Miss Bad was coloured lavender with red hair, red nose and yellow bows.
Counterparts
See Counterparts Wiki.
Gallery
See also
External links
| | | |
| --- | --- | --- |
| V · T · E | Roger Hargreaves | |