Little Miss Brilliant/Madame Géniale is part of the Little Miss series of books, by Roger Hargreaves.
She was created by two writers, Viviane Cohen and Evelyne Lallemand, and an illustrator, Colette David.
About her
Colour: Fuchsia
Shape: Bean
Gender: Female
Hair: Yellow and curly
Features: Blue bow
Personality: Bright, intelligent, wise, thoughtful
Relatives: None
Friends: Mr. Clumsy
Rivals: None
Job: Being very intelligent and coming up with brilliant ideas
Story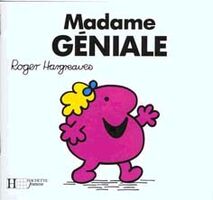 Little Miss Brilliant/Madame Géniale is very intelligent. She has a teapot with two spouts to make two cups of tea.
One day she decides that she does not want to wash her dishes, so she has the brilliant idea to throw them out instead. Afterwards, she goes for a walk in the countryside.
Little Miss Brilliant hears a loud noise coming from a dilapidated house nearby, so she decides to go see what it is. Turns out it is Mr. Clumsy stuck in his washing basket! Little Miss Brilliant tried to help him, but just turns the basket the right way round, with Mr. Clumsy still inside. Mr. Clumsy protests, so in response Little Miss Brilliant takes him outside of his house. After this, she finally takes the washing basket off of his head.
Mr. Clumsy is very grateful, and as a thank-you invites Little Miss Brilliant inside for a cup of tea. He trips over and breaks his teapot however. Little Miss Brilliant tells him to come over for tea at her house, but she threw out her teapot earlier so they cannot have any tea now!
International publications & translations
This is a list of alternate titles for this book being published internationally.
Madame Géniale (French)
Η κυρία Καταπληκτική (Greek)
List of characters
This is a list of Mr. Men, Little Miss and other special characters that appear in this book.
Title character other appearances
This is a list of other books that the title character has appeared in.
Trivia
Counterparts
See Counterparts Wiki.
Gallery
Screenshots
See also
External links
| | | |
| --- | --- | --- |
| V · T · E | Roger Hargreaves | |