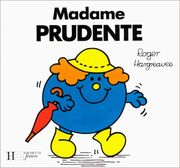 Little Miss Careful/Madame Prudente is part of the Little Miss series by Roger Hargreaves.
Story
Little Miss Careful/Madame Prudente always watches her step. She lives in a country where it is always sunny. One day, she has been told to give a speech about how being careful is the best thing in the world. But despite how careful she is, she is more careless than her name states!
About Her
Gender: Female
Colour: Blue
Relatives: None
Job: Being Careful and always watching her step
International publications & translations
Madame Prudente (France)
Η κυρία Απρόσεκτη (Greece)
Trivia
Little Miss Careful appeared in Little Miss Curious before her own book. The French people probably thought that they didn't want to leave a minor Mr. Men character out.
Counterparts
See Counterparts Wiki.
Gallery
See also
| | | |
| --- | --- | --- |
| V · T · E | Roger Hargreaves | |