Little Miss Curious

Book No.

28

Release Date

January 1, 1990,
July 13, 1994 (UK)

Preceded by

Followed by
Little Miss Curious is the twenty-eighth book in the Little Miss series by Roger Hargreaves. She was created by two French writers, Viviane Cohen and Evelyne Lallemand, and an illustrator Colette David.
About her
Colour: Orange
Hair: Yellow in a question mark-shaped ponytail
Gender: Female
Personality: Inquisitive, Interested, Born learner, Concerned, Inquiring
Shape: Oval (1990); rounded rectangle (The Mr. Men Show)
Features: Blue bow (1990), dark teal bow (The Mr. Men Show), freckled cheeks (some promotional artwork and The Mr. Men Show)
Friends: Mr. Happy, Little Miss Sunshine, Mr. Quiet, Mr. Bump, Mr. Strong, Little Miss Magic, Mr. Nonsense, Mr. Chatterbox, Little Miss Chatterbox, Little Miss Helpful, Mr. Tickle, Little Miss Splendid and Mr. Nosey.
Rivals: Unknown
Family: None
Job: Asking questions
Story
Little Miss Curious just wants to know everything. She is very curious looking and has a question mark shaped ponytail and a curious nature. She lives in a really nice and curious looking house with a curious looking garden (that has question mark shaped trees) in a country called Nonsenseland.
She asked why do doors squeak but they are not grey with pink ears and long tails (she was probably referring to a mouse), but the door doesn't answer because doors can't speak. She then asks the worms why do they have bow ties in Nonsenseland. Then Mr. Nonsense shows up holding a sandwich filled with sand and she asks him why are sandwiches called sandwiches if they have don't have any sand in them, Mr. Nonsense says that he is eating a sand sandwich and that he is rather partial to sand because he also comes from Nonsenseland, where everyone and everything do things differently to anyone else and then he goes off saying "Happy birthday".
Little Miss Curious goes to the Nonsenseland Library to find a book that has everything that she wants to know, but the librarian becomes angry and scolds her for holding the queue to the counter and she asks her to leave. She then leaves the Nonsenseland Library then she sees Little Miss Careful wearing wellies and holding an umbrella and she wonders why she is wearing wellies and holding an umbrella if it's not raining. She then runs away in the end and the reader wonders where she is running off to!
The Mr. Men Show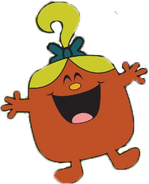 Little Miss Curious appeared in the second season of The Mr. Men Show. She now has a honey-yellow nose and freckles (which are absent in offiical artwork), she is a brownish orange color, her hair is a fluo-yellow blonde color, her bow is dark teal and resembles Little Miss Whoops', and her shape is changed from an oval to an extended rounded trapezoid. She has freckles on her face which are absent in promotional artwork. She acts mostly as a background character like Mr. Tall, however she has two lines in the episode "Trees", asking Mr. Happy why tunnels are carved into trees when drivers could drive around them and asking Mr. Rude why he didn't listen to Mr. Happy's warning about how his large Hummer-esque car couldn't fit through the tunnel. She is voiced by Cheryl Chase in the US version and Claire Morgan in the UK dub.
Episode Appearances
Accents
Voice Actresses
Jill Shilling (UK, 1995-1997)
Catherine Disher (US, 1997-1999)
Cheryl Chase (US, 2009; credited as Sophie Roberts)
Claire Morgan (UK, 2009)
Trivia
Book trivia
Even though Little Miss Curious is the twenty-eighth book in the Little Miss series, she is placed twenty-seventh in the Little Miss Library, between Little Miss Stubborn and Little Miss Fun which were the twenty-seventh and twenty-ninth books in the Little Miss series, respectively, though they are respectively placed twenty-sixth and twenty-eighth in the Little Miss Library.
Little Miss Curious originated from France, which explains why Little Miss Careful appeared her book despite it never getting an English release.
Her house is green with a yellow front door, 2 windows, a red roof and a chimney which looks like a question mark.
In some promotional material as well as an online sliding puzzle, Little Miss Curious has freckles, similar to the design in The Mr. Men Show. Ironically, however, promotional artwork for her design in that series lacks freckles.
The Mr. Men Show trivia
First appearance: Clean Teeth (in cameo and non-speaking)
First speaking appearance: Trees
Little Miss Curious only had two lines in the entire TV series, only in Trees. This is the least amount a character has spoken in the entire series.
Little Miss Curious along with Mr. Tall, Mr. Funny, and Little Miss Bossy never appeared in the show's theme song nor the official website.
For unknown reasons, she did not appear in the Japanese dub.
Little Miss Curious is the only French-originated character to appear in The Mr. Men Show.
Counterparts
See Counterparts Wiki.
International publications & translations
This is a list of alternate titles for this book being published internationally.
Madame Pourquoi (French)
Lille Frøken Nysgerrig (Danish)
Η κυρία Περίεργη (Greek)
Mała Ciekawska (Polish)
好奇小姐 (Taiwan)
호기심양 (Korean)
こうきしんいっぱいちゃん (Japanese)
גברת סקרנית (Hebrew)
ألانيسا هاشورا (Alanisah hashurah) (Arabic)
List of characters
This is a list of Mr. Men, Little Miss and other special characters that appear in this book.
Pictures Only
Title character other appearances
This is a list of other books that the title character has appeared in.
Gallery
Artwork from The Mr. Men Show
Screenshots
See also
External links
| | | |
| --- | --- | --- |
| V · T · E | Roger Hargreaves | |