Little Miss Fickle

Book No.

20

Release Date

July 14, 1984

Preceded by

Followed by
Little Miss Fickle is the twentieth book in the Little Miss series by Roger Hargreaves.
About her
Colour: Red-orange
Shape: Oval
Gender: Female
Personality: Changeable, Unpredictable, Variated, Capricious, Sudden, Unaccountable, Frivolous, Purposeless, Valueless
Hair: Black in thin braids
Friends: Little Miss Neat, Little Miss Late, Mr. Forgetful & Mr. Muddle
Rivals: None
Species: Shaped Human
Job: Cannot make up her minds
Features: Pink bowler hat with white stripe, blue bows
Voice Actresses: Jill Shilling (Mr. Men and Little Miss), Alyson Court (US dub)
Story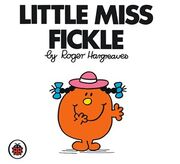 Little Miss Fickle always has trouble making up her mind. She ends up causing multiple people to change their jobs.
International publications & translations
This is a list of alternate titles for this book being published internationally.
Madame Indecise (French)
Unsere Ute Unentschieden (German)
Miss Unentschieden (Second German Release)
Juffertje Twijfel (Dutch)
Η κυρία Αναποφάσιστη (Greek)
Lille Frøken Flyvsk (Danish)
Mała Kaprysia (Polish)
善變小姐 (Taiwan)
변덕양 (Korean)
きまぐれちゃん (Japanese)
Mala Sitnica (Slovenian)
List of characters
This is a list of Mr. Men, Little Miss and other special characters that appear in this book.
Restaurant Waiter
Sunnytown Milliner
Sunnytown Butcher
Title character other appearances
This is a list of other books that the title character has appeared in.
Trivia
The only time she did make up her mind was the episode "Mr. Greedy Goes to a Dinner Party"
Even though Little Miss Fickle is the twentieth book in the Little Miss series, she is placed twenty-fourth in the Little Miss Library, between Little Miss Greedy and Little Miss Brainy which were the thirteenth and twenty-sixth books in the Little Miss series, respectively, though they are respectively placed twenty-third and twenty-fifth in the Little Miss Library.
Little Miss Fickle was meant to appear in The Mr. Men Show along with Little Miss Twins, but didn't appear because Cartoon Network didn't want too many female characters.
Counterparts
See Counterparts Wiki.
Gallery
Mr. Men and Little Miss
See also
External links
| | | |
| --- | --- | --- |
| V · T · E | Roger Hargreaves | |