'Is she always like that?"
"Ugh, you do not know the half of it."'
— Miss Scary and Mr. Rude, Machines, The Mr. Men Show
Little Miss Giggles

Book No.

14

Release Date

19 June 1984

Preceded by

Followed by
Little Miss Giggles is the fourteenth book in the Little Miss series by Roger Hargreaves.
About her
Colour: Blue
Shape: Round
Gender: Female
Personality: Hilarious, Amusing, Giggle-monster, Tee-hee, Giggly, Tittery
Hair: Red in pigtails
Family: none
Comedy: Laughing
Friends: Mr. Happy, Little Miss Sunshine, Mr. Funny, Little Miss Tiny, Mr. Small, Mr. Quiet, Mr. Fussy Little Miss Daredevil, most of the characters
Rivals: none
Occupation: Comedian
Species: Shaped Human
Colour of the nose: Yellow
Likes: Giggling, fun things
Dislikes: Losing her giggle
Job: Loves to giggle, laugh and have fun
Features: Yellow clips
Nationality: American (US), Somerset (UK)
Voice Actresses: Jill Shilling (Mr. Men and Little Miss), Catherine Disher (US dub), Reba West (The Mr. Men Show), Claire Morgan (UK dub)
Story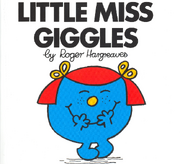 Little Miss Giggles can't stop giggling! She giggled all day and night, even while she's asleep! One day during her daily walk, she loses her giggle, and meets Mr. Happy, he takes her to Mr. Funny so she can giggle again, but no matter how hard Mr. Funny tried, he cannot get back her giggle. Mr. Topsy-Turvy suggests that they go see Dr. Make-you-well, but he cannot do anything for her. To solve the problem, Mr. Happy gives Little Miss Giggles a "giggle", and she giggled again.
The Mr. Men Show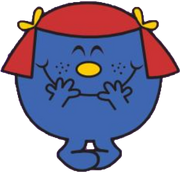 Little Miss Giggles is in the second season of The Mr. Men Show. She's voiced by Rebecca Forstadt (credited as Reba West) and Claire Morgan. She almost looks the same as she did in the books except she is a darker shade of blue, her hair is a darker red, a different pattern of freckles on her left cheek and her clips no longer have holes in them. When she giggles, she can sometimes get out of control. Some of the characters like Mr. Grumpy think she's annoying at times but she can't help it when she giggles all the time. She has various jobs, including a part-time firefighter, and is usually a phone receptionist for a company, giggling when those who call mention their problems, but she still manages to send out someone to the person who called even when she's still giggling on the phone.
Trivia
General trivia
Even though Little Miss Giggles is the fourteenth book in the Little Miss series, she is placed seventh in the Little Miss Library, before Little Miss Helpful which was the seventh book in the Little Miss series, though she is placed eighth in the Little Miss Library.
The design of her hair ribbons varies. In her original book and some promotional illustrations, they have holes in them, but in most of Adam Hargreaves' illustrations of her and in The Mr. Men Show, they do not. Adam's design also changes the shape of her pigtails.
The Mr. Men Show trivia
First appearance: Picnics
First speaking appearance: Game Shows (not counting her giggles from Picnics)
Her feet are the same shape as Little Miss Sunshine's.
Little Miss Giggles' design for the show was leaked on a lunch box several months prior to the release of the second season.
Counterparts
See Counterparts Wiki.
International publications & translations
This is a list of alternate titles for this book being published internationally.
Madame Risette (French)
Unsere Inge Immerfroh (German)
Miss Gideal (Irish)
Doña Risitas (Spanish)
Mevrouwtje Giechel (Dutch)
Mała Chichotka (Polish)
笑嘻嘻小姐 (Taiwan)
笑阿阿小组 (Cantonese)
웃음양 (First Korean Release)
깔깔앙 (Second Korean Release)
Η Κυρία Χαχανούλα (Greek)
クスクスちゃん (Japanese)
Мисс Хихи (Russian)
Lille Frøken Fnis (Danish)
Senhora Risinhos (Portuguese)
ألانيسا دهوكه (Alanisah dahhukah) (Arabic)
Gospođica Kikotavica (Госпођица Кикотавица) (Serbian)
Mala Hihitavka (Slovenian)
List of characters
This is a list of Mr. Men, Little Miss and other special characters that appear in this book.
Other Appearances
These are other books that this character appears in.
Cartoon Appearances:
Gallery
Artwork from The Mr. Men Show
Mr. Men and Little Miss Screenshots
The Mr. Men Show Screenshots
See also
| | | |
| --- | --- | --- |
| V · T · E | Roger Hargreaves | |
External links