'Just trying to be helpful.'
— Miss Helpful, The Mr. Men Show
Little Miss Helpful

Book No.

7

Release Date

2 August, 1981

Preceded by

Followed by
Little Miss Helpful is the seventh book in the Little Miss series by Roger Hargreaves.
About her
Color: Dark Fuchsia (pink)
Shape: Oval
Gender: Female
Personality: Clumsy, Caring, Kind, Concerned, Supportive, Emotional, Considerate, Polite, Encouraging, Accidental, Cooperative, Thoughtful, Advising
Hair: Light ginger hair in puffs (original version), orange in pigtails (2008 version)
Family: unknown
Friends: Little Miss Chatterbox, Mr. Grumpy, Mr. Bounce, Mr. Quiet, Mr. Strong, Mr. Scatterbrain, Little Miss Calamity, Mr. Fussy, Little Miss Daredevil, Mr. Noisy, Mr. Nervous, Little Miss Whoops, Mr. Bump, Mr. Happy, Little Miss Sunshine, Little Miss Tidy, Mr. Small, Mr. Nosey, Mr. Messy, Mr. Tall, Mr. Tickle, Mr. Lazy and some of the other characters
Rivals: Mr. Rude, Little Miss Scary, Little Miss Naughty, Mr. Mean and Mr. Snooty
Occupation: Helper
Species: Shaped Human
Likes: Helping people
Dislikes: Messing things up
Job: Helping people, but messes things up.
Features: Green and white shoes (original version), green bows, green fanny pack (bumbag in the UK), green and white sneakers (2008 version)
Nationality: Texan (US), British (UK)
Voice Actresses: Pauline Collins (1983), Jill Shilling (Mr. Men and Little Miss), Catherine Disher (US dub), Katie Leigh (The Mr. Men Show), Jo Wyatt (UK dub, Series 1), Emma Tate (UK dub, Series 2)
Catchphrase: "Just trying to be helpful!"
Story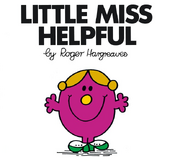 Little Miss Helpful tries to help everyone but ends up making everything worse. She tries to tie Mr. Tall's shoelaces, but she ends up tying both shoes together, and he gets hurt, she tries to give him a plaster, but puts it on his mouth, she tries to take it off, but after doing that he hurts even. Then she tries to help Mr. Happy when he is sick, and getting the cleaning supplies, but her head was stuck in the bucket, and got trapped in the refrigerator. Mr. Happy tries to pull the bucket out of Miss Helpful's head, but sends flying into the lake.
International publications & translations
This is a list of alternate titles for this book being published internationally.
Madame Catastrophe (French)
Dona Servica (Spanish)
Miss Amable (Second Spanish Release)
Unsere Hilde Hilfsbereit (First German Release)
Miss Hilfsbereit (Second German Release)
Mevrouwtje Behulpzaam (Dutch)
Lille Frøken Hjælpsom (Danish)
Lille Frøken Hjelpson (Norwegian)
Η κυρία Εξυπηρετική (Greek)
도움양 (Korean)
熱心小姐 (Taiwan)
Мисс Услуга (Russian)
おたすけちゃん (Japanese)
Senhora Prestável (Portuguese)
Miss Ci penso io (Italian)
Miss Cabhrach (Irish)
Mała Pomocnica (Polish)
คุณหนูใจดี (Thai)
Gospođica Petljalica (Госпођица Петљалица) (Serbian)
Micuța Domnișoară Săritoare (Romanian)
List of characters
This is a list of Mr. Men, Little Miss and other special characters that appear in this book.
Title character other appearances
This is a list of other books that the title character has appeared in.
The Mr. Men Show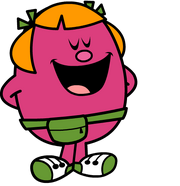 In the 2008 TV series The Mr. Men Show, Little Miss Helpful had a makeover. She kept her personality, colour and shape, but now she has pigtails instead of mini-buns, has green bows on her newly orange hair, a light pink nose, wears a green fanny pack (bumbag in the UK version) and her shoes have been changed (they look similar to Miss Chatterbox's sneakers, only they are green and white).
Like her book counterpart, she tries to help others, but ends up helping nobody, doing more harm than good. Her catchphrase is "Just trying to be helpful!" The only characters who believe that Miss Helpful is truly helpful are both Mr. Lazy and Mr. Scatterbrain.
In the US and UK Versions, she is voiced by Katie Leigh in the US version of both Season 1 and Season 2 and Jo Wyatt in season 1 in the UK version and Emma Tate in Season 2 in the UK version. She is first seen in the episode, Physical.
Trivia
General/book trivia
The Mr. Men Show trivia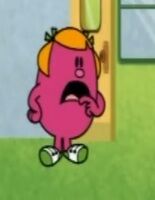 Little Miss Helpful is seen twice without her fanny pack in the episode, Telephone "Sand & Surf". She is also seen without it as one of the heads that shouts Mr. Rude's name when he passed gas.
Counterparts
See Counterparts Wiki.
Gallery
Artwork from The Mr. Men Show
Mr. Men and Little Miss Screenshots
The Mr. Men Show Screenshots
Model Sheets
See also
| | | |
| --- | --- | --- |
| V · T · E | Roger Hargreaves | |
External links