Little Miss Loud/Madame Tintamarre is a part of the Little Miss series of books, by Roger Hargreaves.
She was created by two writers, Viviane Cohen and Evelyne Lallemand, and an illustrator, Colette David.
About her
Colour: Red-orange
Shape: Triangle
Gender: Female
Hair: None
Features: Blue bow, yellow shoes
Personality: Noisy, demanding, attention grabbing, disruptive
Relatives: Possible Mr. Noisy
Friends: None
Rivals: Mr. Quiet, Little Miss Shy
Job: Being loud and interrupting other people's quiet
Story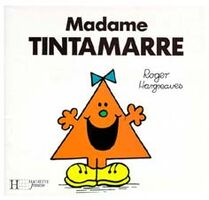 Little Miss Loud/Madame Tintamarre lives in Loudland, and like Mr. Noisy, she is very loud indeed. She wishes to be heard, but everything in Loudland is so noisy, she cannot be heard!
She decides to go to Seatown to be heard, and catches a bus to go there. When she's boarding the bus, she yells her request for a ticket through her megaphone, causing everyone else waiting to board to fall over from the noise and the bus driver to have to cover his ears.
When she gets to Seatown, she finds Mr. Quiet. She asks him if its nap time, yelling through her megaphone of course. He wakes up immediately. She also finds Little Miss Shy, and yells at her about a wave that is about to crash over her. Neither Mr. Quiet or Little Miss Shy are very amused.
Little Miss Loud is very charmed by Seatown, and decides to move there due to how peaceful it is. She disturbs the residents even further by singing to a song on her radio through her megaphone.
To make the situation worse, Mr. Noisy turns up! He does not watch where he is going, and steps on Little Miss Loud's radio. This causes Little Miss Loud to become silent for what may be the first time in her life.
International publications & translations
This is a list of alternate titles for this book being published internationally.
Madame Tintamarre (French)
Η Κυρία Φωνακλού (Greek)
List of characters
This is a list of Mr. Men, Little Miss and other special characters that appear in this book.
Pictures only
Title character other appearances
Trivia
She appears on a set of Little Miss stickers from 1996.
She may be related to Mr. Noisy.

She may also be a Noisette. (from Mr. Noisy and the Noisettes)
She is orange on the original cover on her book, but is red on the inside pictures and all future artwork.
Counterparts
See Counterparts Wiki.
Gallery
Mr. Men and Little Miss screenshots
Book Screenshots
See also
External links
| | | |
| --- | --- | --- |
| V · T · E | Roger Hargreaves | |