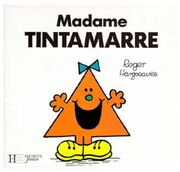 Little Miss Loud/Madame Tintamarre is a part of the Little Miss series of books, by Roger Hargreaves. She was created by two writers, Viviane Cohen and Evelyne Lallemand and an illustrator, Colette David.
Little Miss Loud/Madame Tintamarre lives in Loudland, and like Mr. Noisy, she is very loud indeed. She wishes to be heard, but everything in Loudland is so noisy, she cannot be heard! She decides to go to Seatown to be heard, but she disturbs Mr. Quiet and Little Miss Shy's peace and quiet! And to make matters worse, Mr. Noisy comes over and steps on Little Miss Loud's radio! Little Miss Loud doesn't say anything now.
International publications & translationsEdit
This is a list of alternate titles for this book being published internationally.
Madame Tintamarre (French)
Η Κυρία Φωνακλού (Greek)
About HerEdit
Gender: Female
Colour: Red-Orange
Relatives: none
Job: Being Loud and Noisy
List of charactersEdit
This is a list of Mr. Men, Little Miss and other special characters that appear in this book.
Pictures onlyEdit
Title character other appearancesEdit
She appears on a set of Little Miss stickers from 1996.
In the French Little Miss Library she is placed 11th and in between Little Miss All-Goes-Well and Little Miss Shy who are the 10th and 12th.
She may be a relative to Mr. Niosy.
She may also be a Noisette. (from Mr. Noisy and the Noisettes)
She is orange on the original cover on her book.
CounterpartsEdit
See Counterparts Wiki.
External linksEdit
| | | |
| --- | --- | --- |
| V · T · E | Roger Hargreaves | |