Little Miss Lucky

Book No.

18

Release Date

19 June 1984

Preceded by

Followed by
Little Miss Lucky is the eighteenth book in the Little Miss series by Roger Hargreaves.
About her
Colour: Pink
Shape: Round
Gender: Female
Personality: Fortunate, Lucky, Reader, Imaginative, Creative, Inventive
Relatives: none
Friends: Mr. Bump
Rivals: Little Miss Scatterbrain, Mr. Brave
Job: Being lucky
Features: Blue gingham bonnet with red bow
Voice Actresses: Jill Shilling (Mr. Men and Little Miss), Catherine Disher (US dub)
Story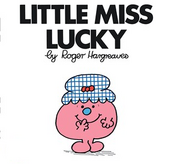 Little Miss Lucky lives in Horseshoe Cottage on top of a hill. She settles in bed with a book she has bought. Then she hears a knock at the door and goes downstairs to answer it. She went to the door. She gets locked out of the house, a gust of wind blows her off her feet, and she lands onto a haystack. A tree starts chasing her, then she wakes up to find out that it was all a dream, and that's why the story is called Little Miss Lucky.
International publications & translations
This is a list of alternate titles for this book being published internationally.
Madame Chance (French)
Unsere Sissi Sorgenfrei (First German Release)
Miss Glückspilz (Second German release)
Miss Afortunada (Spanish)
Mevrouwtje Geluk (Dutch)
Η κυρία Τυχερούλα (Greek)
Mała Szczęściarka (Polish)
Lille Frøken Heldig (Danish)
Lille Frøken Flaks (Norwegian)
행운양 (Korean)
幸運小姐 (Taiwan)
ラッキーちゃん(Japanese)
גברת מזל (Hebrew)
Ungfrú Heppin (Icelandic)
Title character other appearances
This is a list of other books that the title character has appeared in.
Books
Television
Trivia
She is a very good friend to Mr. Bump. (As seen in "A Special Friend for Little Miss Lucky")
She is only angry in Little Miss Lucky and the Naughty Pixies.
Even though Little Miss Lucky is the eighteenth book in the Little Miss series, she is placed sixteenth in the Little Miss Library, between Little Miss Late and Little Miss Scatterbrain which were the eleventh and twelfth books in the Little Miss series, respectively, though they are respectively placed fifteenth and seventeenth in the Little Miss Library.
It has been theorized and believed by some she is one of the faces in The Mr. Men Show's intro.
Her favorite past time is reading.
Counterparts
See Counterparts Wiki.
Gallery
Mr. Men and Little Miss Screenshots
See also
External links
| | | |
| --- | --- | --- |
| V · T · E | Roger Hargreaves | |