'Sometimes, I just can't help myself!'
— Miss Naughty, The Mr. Men Show
Little Miss Naughty is the second book in the Little Miss series by Roger Hargreaves.
About her
Colour: Purple
Shape: Oval
Gender: Female
Personality: Impolite, Naughty, Unmannerly, Ill-Mannered, Disrespectful, Bad-mannered, Derisive, Irreverent, Rude.
Hair: None (original version), Pink hair in curly puffs (2008 version)
Family: None
Friends: Mr. Mischief, Mr. Happy, Little Miss Sunshine, Little Miss Scary, Little Miss Trouble, Mr. Funny
Rivals: Mr. Fussy, Mr. Grumpy, Mr. Messy, Mr. Nervous
Occupation: Prankster, Con Artist
Species: Shaped Human
Likes: Pulling pranks on everybody
Dislikes: Her Pranks backfiring on her
Job: Playing jokes on people.
Features: Green ribbon (original version), Light green bow (2008 version)
Nationality: Bristolian (UK), Transylvanian/Romanian (US)
Voice Actresses: Pauline Collins (1983), Jill Shilling (Mr. Men and Little Miss), Catherine Disher (US dub), Alicyn Packard (The Mr. Men Show (US broadcast)), Jo Wyatt (UK dub, Season 1), Teresa Gallagher (UK dub, Season 2)
Catchphrase: Sometimes, I just can't help myself!
Story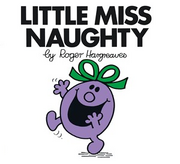 Little Miss Naughty likes playing practical jokes. She awakens one day, thinking it looks like a good day for being naughty. She knocks Mr. Snooty's hat off his head and jumps on it, and breaks Mr. Clever's glasses. She also runs off with Mr. Bump's bandages, wrapping them on Mr. Small. The Mr. Men hold a meeting to decide what to do. Mr. Small meets with Mr. Impossible, who can make himself invisible, and each time Little Miss Naughty tries to do something naughty, Mr. Impossible tweaks her nose. After a week it cures Little Miss Naughty of her naughtiness.
The Mr. Men Show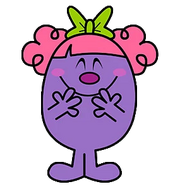 In the 2008 TV series The Mr. Men Show, she kept her purple color and shape, but now has curly pink hair, dark fuchsia nose, pink rosy cheeks, her bow is a lighter shade of green and is smaller and neater, and also has a Transylvanian accent in the U.S. version and a Bristol accent in the U.K version.
Her catchphrase is "Sometimes I just can't help myself." On occasion, her pranks always backfire on her in every episode. Her pranks are more elaborate and clever, such as in "Library" when she switched book covers to the point where Mr. Messy cleaned himself. In "Robots", she created a robot called Mr. Metal.
She is voiced by Alicyn Packard in the US version and Jo Wyatt (Season 1) and Teresa Gallagher (Season 2) in the UK version.
Trivia
General/book trivia
In the US dub of Mr. Men and Little Miss, she speaks with a New Jersey accent. In the original UK broadcast, she spoke with a Birmingham accent.
She appears to be a lot smaller in size in Mr. Men and Little Miss, being around the same size as Little Miss Twins.
The Mr. Men Show trivia
She appears more in the second season than the first.
She seems to like money and may be a little greedy when it comes to money, as seen in Canned Goods, Yard Work, and especially in Bugs.
Like Mr. Bounce and Little Miss Magic, her video on the now-defunct official website is her first speaking appearance.
Little Miss Trouble was considered for the series but Little Miss Naughy took the spot due to her being more of a prankster.
Counterparts
See Counterparts Wiki.
International publications & translations
This is a list of alternate titles for this book being published internationally.
Madame Canaille (French)
Miss Dana (Irish)
Dona Traviesilla (Castilian Spanish)
Miss Traviesa (Latin Spanish)
Unsere Ulla Ungezogen (German)
Mevrouwtje Stout (Dutch)
Menina Marota (Portuguese)
Η κυρία Ατακτούλα (Greek)
Mała Paskudka (Polish)
Lille Frøken Fræk (Danish)
Lille Frøken Ugagnskråke (Norwegian)
Miss Csintalan (Hungarian)
Мисс Проделка (Russian)
淘氣小姐 (Taiwan)
いたずらっこちゃん (Japanese)
장난양 (Korean)
คุณหนูซุกซน (Thai)
Gospođica Nevaljalica (Госпођица Неваљалица) (Serbian)
Micuța Domnișoară Obraznică (Romanian)
Mala porednica (Slovenian)
List of characters
This is a list of Mr. Men, Little Miss and other special characters that appear in this book.
Title character other appearances
This is a list of other books that the title character has appeared in.
Gallery
Artwork from The Mr. Men Show
Mr. Men and Little Miss Screenshots
The Mr. Men Show Screenshots
See also
| | | |
| --- | --- | --- |
| V · T · E | Roger Hargreaves | |
External links