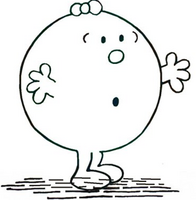 Little Miss Nobody is a Little Miss that was seen in Little Miss Stella's book.
About her
Shape: Circle
Colour: Transparent
Gender: Female
Hair: None
Features: Bow
Personality: Shy, quiet, invisible, unseen
Relatives: Possibly Mr. Nobody
Friends: Little Miss Stella
Rivals: None
Job: Unknown
Trivia
Unlike Mr. Nobody, she never got changed into a real Mr. Men. If she ever will is unknown, as her way of becoming a somebody was to wear fashionable clothing rather than becoming real.
Counterparts
See Counterparts Wiki.
| | | |
| --- | --- | --- |
| V · T · E | Roger Hargreaves | |