Little Miss Pretty/Madame Coquette is part of the Little Miss series of books, by Roger Hargreaves. She was created by two writers, Viviane Cohen and Evelyne Lallemand and an illustrator, Colette David.
About her
Colour: Bright blue
Shape: Round
Gender: Female
Hair: Blond and curly
Features: White hairbow, shoes, clutch and gloves with pink, purple and green sprinkle pattern.
Personality: Charming, decorated, graceful, elegant
Relatives: Noone
Friends: Little Miss Sunshine
Rivals: Little Miss Naughty
Job: Being Pretty and always matching her accessories.
Story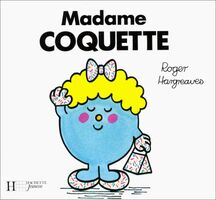 Little Miss Pretty/Madame Coquette is one of the most beautiful Little Misses in the world, and she lives in Prettyville.
When Little Miss Sunshine invited her to go on a walk with her one day, Little Miss Pretty spent the rest of the day finding the right accessories to match Little Miss Sunshine. When she found gold accessories with red polka dots, she changed her entire house's design to match said accessories.
That night, Little Miss Naughty snuck into Little Miss Pretty's room, and poured ink onto Miss Pretty's handbag. When Little Miss Pretty woke up the next morning, she was horrified to see the ink on her handbag, and promptly threw it into her trash bin.
To Little Miss Pretty's surprise, when she went outside carrying her decorated bin, Little Miss Sunshine mistook the bin for a handbag, and called it pretty!
International publications & translations
This is a list of alternate titles for this book being published internationally.
Madame Coquette (French)
Η Κυρία Κοκέτα (Greek)
List of characters
This is a list of Mr. Men, Little Miss and other special characters that appear in this book.
Trivia
Out of the 7 deadly sins, Little Miss Pretty represents Pride.
This is the only story featuring other characters not to feature at least one male character.
There has been confusion about whether her name is meant to be Little Miss Pretty or Little Miss Vain in English.
She and Little Miss Busy-Body are the only French characters not to make any appearances but their own books.
Counterparts
See Counterparts Wiki.
Gallery
Screenshots
See also
External links
| | | |
| --- | --- | --- |
| V · T · E | Roger Hargreaves | |