Little Miss Princess

Book No.

34

Release Date

25 March 2011

Preceded by

Followed by
Little Miss Princess is the thirty-fourth book in the Little Miss series by Roger Hargreaves, and the fourth one created by Adam Hargreaves.
About her
Colour: Pink
Shape: Round
Gender Female
Hair: Blonde in braids around her hair
Colour of the nose: A darker shade of pink
Features: Gold crown and light blue Mary Janes
Family: A King (father) and a Queen (mother)
Friends: Little Miss Twins, Mr. Bump, Little Miss Whoops, Little Miss Magic and some of the other characters.
Rivals: None
Species: Shaped Human
Likes: Royal things
Job: Helping others
Story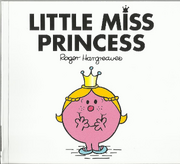 Little Miss Princess lived in a castle in Misterland, she wanted to spread her luck around, so she sent people to help the other Mr. Men and Little Misses. One day she decided to help Mr. Bump herself after she heard that he broke his leg, she went to do the shopping, but was muddled up during the shopping, so Mr. Bump suggested her to go to the Supermarket, when she got home she put the groceries in the wrong places, failed to clean up his house, and burnt their dinner, so Mr. Bump suggested her to ring for a pizza because she was good at delivering things.
Other characters that appeared in this book
Gardener
Butcher
Baker
Greengrocer
Pictures Only
Mentioned
International publications & translations
This is a list of alternate titles for this book being published internationally.
Madame Princesse (French)
Miss Prinzessin (German)
Miss Princesa (Spanish)
Lille frøken Prinsesse (Danish)
Mevrouwtje Prinses (Dutch)
Η κυρία Πριγκίπισσα (Greek)
Mała Księżniczka (Polish)
Мисс Принцесса (Russian)
プリンセスちゃん (Japanese)
גברת נסיכה (Hebrew)
ألانيسا أميرة (Alanisah Amirah) (Arabic)
Trivia
She is the only royal character in the whole Mr. Men and Little Miss series.
Counterparts
See Counterparts Wiki.
Gallery
Merchandise
See Also
| | | |
| --- | --- | --- |
| V · T · E | Roger Hargreaves | |
Community content is available under
CC-BY-SA
unless otherwise noted.