Little Miss Scary

Book No.

31

Release Date

3 April, 2003

Preceded by

Followed by
Little Miss Scary is the thirty-first book in the Little Miss series by Roger Hargreaves and the first one created by Adam Hargreaves.
About her
Colour: Scarlet
Shape: Round with spiky hair
Gender: Female
Personality: Terrifying, Frightening, Fearful, Horrifying, Ghastly, Spine-Chilling, Spooky, Hair-Raising
Hair: Scarlet spikes
Family: None
Friends: Mr. Messy, Mr. Nervous (sometimes), Little Miss Naughty, Little Miss Daredevil, Mr. Bounce, Mr. Grumpy (one-sided), Little Miss Chatterbox
Rivals: Mr. Grumpy (one-sided), Mr. Rude, Little Miss Sunshine, Mr. Nervous (at times), Mr. Tickle
Occupation: Saleswoman, Co-presenter of The Dillydale Morning News
Species: Shaped Human
Likes: Scary things, being scarier than anyone
Dislikes: Cute things, other people being scary like her, anyone who tries to scare people, Mr. Tickle
Job: Scaring people
Features: Spiked hair
Nationality: South American (US), South-east England (UK) 
Voice Actresses: Susan Balboni (The Men Men Show), Jo Wyatt (UK dub, series 1), Alex Kelly (UK dub, series 2)
Catchphrase: "Now that's really scary!" I love fear.
Story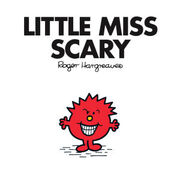 Little Miss Scary enjoys scaring people more than anything. She lives on the top of a mountain in a house called Spooky Cottage, when it was dark she will always creep into the valley, wait quietly and scare people with a loud "BOO!" or with some scary equipment. One day Mr. Noisy visits Mr. Jelly, who was scared because Little Miss Scary kept jumping on him and shouted "BOO!" at him, so Mr. Noisy makes an idea, he and Mr. Jelly uses the same method Little Miss Scary uses to scare others, and she was now scared and ran to her house. Mr. Jelly disappears, so Mr. Noisy goes back to his house to have a look under Mr. Jelly's bed.
The Mr. Men Show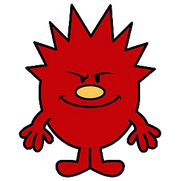 In The Mr. Men Show, Little Miss Scary kept her looks except one of her spikes is gone, her remaining spikes are a bit longer, and she is a darker shade of red. She is also a normal height instead of small like in the books. She loves fear and has her own television show, "Miss Scary's Late Night Scare Fest." She often dislikes other people who are scary like her because she thinks being scary is her job. She lives next to Mr. Nervous, her favorite target to scare, in a gloomy manor surrounded by prepetual storm clouds. She has a collection of a variety of masks (one of them being a Mr. Grumpy mask which spooked some aliens in Picnic), which she uses to scare the other Mr. Men and Little Misses, though she can get scared by them as well. When she scares others with her mask, she often gives a terrifying screech. She has a scary snore, according to Mr. Messy, as seen in Sleep. She loves it when Little Miss Magic teleports. Although she often snorts when she laughs, her scratchy, witch-like voice was provided by Susan Balboni in North American dubbed airing, while the Southeast English accent was provided by Jo Wyatt in the UK version, being replaced by Alex Kelly in the second season. She is first seen in Physical.
Trivia
General trivia
Little Miss Scary is the second character for sharing the name with another character as being one of the Little Miss Spice Girls, the first being Mr. No.
At first for her, things don't seem so scary, but later on in the plot, they start to get a bit scary.
The Mr. Men Show trivia
Little Miss Scary, Mr. Rude, and Little Miss Whoops are the first Adam Hargreaves-created characters to appear in animated form, starting with the show.
The only times she got scared herself is in these episodes: The Dark, Inventions, Snow, Gardens, Night, Food, Outer Space, Arts & Crafts, Game Shows, Gifts, Fruit, Post Office, Trees, Machines, Eyeglasses, and Pests.
She had a bit of a southern accent in early episodes of the first season.
She has a talent for ballet, as shown in Skyscrapers and Dance, Dance, Dance.
She dislikes when other characters or things scare people, claiming that scaring people is her job.
In Season 2, all of Miss Scary's masks are redesigned. She also gets a mask in Mr. Grumpy's likeness.
Counterparts
See Counterparts Wiki.
Title character and other appearances
Books
Television
Quotes
The Mr. Men Show
"Now my balloon is gone, I have to scare them myself." - Parade
"Get a grip, Mr. Nervous, it's just a sprinkler." - Heatwave
"BWA-ha-ha-ha-ha-ha!" - Every Episode
"Hey! Put down that snowglobe. You break it, you buy it." - Adventure
"I had to use my scariest mask." - Picnics
"I love fear!" - Full Moon
"Five tons of stinky sticky go!" - Goo (US Dub)
"If it isn't scary, it isn't fun!" - Whenever she's selling something
"Miss Sunshine wouldn't know a scary story if it yanked one of her pigtails" - Bad Weather
"No, no... and definitely not." - Arts and Crafts
"Stop trying to scare everyone, that's my job!" - Sightseeing
"Come on Mr. Nervous, Just hit the ball! Some of us want to play miniature golf too you know." - Physical (First line)
International publications & translations
This is a list of alternate titles for this book being published internationally.
Madame Terreur (French)
גברת פחד (Hebrew)
Menina Susto (Portuguese)
Miss Scanrúil (Irish)
겁주기양 (Korean in The Mr. Men Show, Cartoon Network dub)
오싹양 (Korean in The Mr. Men Show, EBS dub)
무서워양 (Korean)
Micuța Domnișoară Sperietoare (Romanian)
びびらせちゃん (Japanese)
可怕小姐 (Taiwan in The Mr. Men Show)
嚇人小姐 (Taiwan/Cantonese)
吓人小姐 (China)
Мисс Ужас (Russian)
خانم کوچولوی پخ پخو (Persian, Gohar Danesh)
ترسناک خانم (Persian, Ghadiyani)
Miss Grusel (German)
Lille Frøken Farlig (Danish)
Mevrouwtje Eng (Dutch)
Η κυρία Τρομακτική (Greek)
Miss Bú (Spanish)
Mała Straszka (Polish)
List of characters
This is a list of Mr. Men, Little Miss and other special characters that appear in this book.
Pictures only
Gallery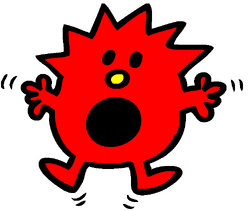 See also
External links
| | | |
| --- | --- | --- |
| V · T · E | Roger Hargreaves | |