Little Miss Scatterbrain Puts Everything in Turmoil is the 4th episode of the third season of Mr. Men and Little Miss. It was first broadcast on 14 January, 1997.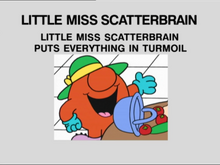 Plot
Little Miss Scatterbrain goes shopping for her birthday and then drives back home to get ready for her party.
All of which is fine, except that it isn't her birthday, the car is Mr. Topsy-Turvy's and not hers and it isn't her house to which she returns but Mr. Jelly's! The string of misunderstandings is to be the cause of many a surprise!
Characters
Trivia
Errors
Community content is available under
CC-BY-SA
unless otherwise noted.