Little Miss Show-Off

Release Date

1990

Little Miss Show-Off/Madame Moi-Je is part of the Little Miss series of books, by Roger Hargreaves.
She was created by two writers, Viviane Cohen and Evelyne Lallemand, and an illustrator, Colette David.
About her
Colour: Dark green
Shape: Half circle
Gender: Female
Hair: None
Features: Large yellow hat with blue ribbon and pink bow, blue gloves, yellow heels
Personality: Commanding, Authoritative, In-charge, Strict, Demanding, Obedient, Observant.
Relatives: None
Friends: None
Rivals: Mr. Happy, Little Miss Shy, Mr. Messy, Mr. Bump, Mr. Greedy
Likes: Herself, being the best at everything
Dislikes: People that are better than her. Not being the center of attention
Job: Being selfish, cruel, mean, and only thinking of herself
Story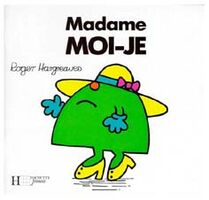 Little Miss Show-Off meets Mr. Happy, who is smiling. She says she can smile better at him, despite not being able to.
She walks on and meets Little Miss Shy, who is blushing. She tells Little Miss Shy that she doesn't blush, which causes Little Miss Shy to start crying. A wizard was watching this go down, and decided to teach Little Miss Show-Off a lesson.
The Wizard disguises himself as Mr. Messy, and tells Little Miss Show-Off that she can't get herself as messy as he is. Little Miss Show-Off takes up the challenge, and rolls in a muddle of mud to prove herself. She gets very messy, but feels very proud of herself.
This continues when The Wizard disguises himself as Mr. Bump. He tells Little Miss Show-Off that she does not have as bad luck as him. She rams her head into a street light to prove him wrong, and gets badly injured in the process.
The final time The Wizard disguises himself, he turns into Mr. Greedy. He tells Little Miss Show-Off that she can never eat as much as him. She goes to a restaurant where she eats an extraordinarily large amount of food. She gets very very sick from it, and does not feel so proud of herself after all the pain she put herself through.
Little Miss Show-Off learned her lesson, and decided that she would never try to show off or be better than anyone else ever again. The Wizard got met by her a day later, and asked her what she will change her name to as a result.

International publications & translations
This is a list of alternate titles for this book being published internationally.
Madame Moi-Je (French)
Η κυρία Εγώ (Greek)
List of characters
This is a list of Mr. Men, Little Miss and other special characters that appear in this book.
Title character in other appearances
Trivia
She once appeared on a set of Little Miss Stickers in 1996.
Her original name is Little Miss Selfish.
When the French lineup got updated to feature new covers in 2007, both she and Little Miss Prim got removed entirely, making them the only two characters to have ever been permanently removed from the English or French lineups.

This is probably due to the nature of her character.
Counterparts
See Counterparts Wiki.
Gallery
Screenshots
See also
External links
| | | |
| --- | --- | --- |
| V · T · E | Roger Hargreaves | |