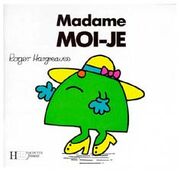 Little Miss Show-Off/Madame Moi-Je is part of the Little Miss series of books, by Roger Hargreaves. She was created by two writers, Viviane Cohen and Evelyne Lallemand and an illustrator, Colette David.
Story
She meets the smiling Mr. Happy and says she can smile more beautifully then Mr. Happy in the first page of the book. Of course it's not true. She doesn't even care however. She meets Little Miss Shy and says that she doesn't blush and isn't shy. Little Miss Shy begins to cry. A wizard was watching and decides to teach her a lesson. She soon meets the wizard who has transformed into Mr. Messy. Mr. Messy says she'll never be as dirty as him. She rolls in a pile of mud and becomes incredibly dirty. Her mouth is now covered in mud and she is dirtier than Mr. Messy. She goes into town and meets the wizard who is transformed into Mr. Bump. He says "I'm sure you will never have as much misfortune as me." Little Miss Show-Off goes off and bumps her head really hard to prove she can have more bad luck. It hurts very badly. She meets the wizard who has turned into Mr. Greedy. He says he bets she could never eat more than him. She eats a huge amount of food. The problem now is she's very dirty, in a lot of pain, and she has eaten too much. She left and swore she wouldn't do it again. The wizard meets a changed Little Miss Show-Off the next day and asks her what she will call herself, concluding the story.
International publications & translations
This is a list of alternate titles for this book being published internationally.
Madame Moi-je (French)
Η κυρία Εγώ (Greek)
About Her
Gender: Female
Colour: Green
Relatives: None
Job: Being Selfish, cruel, mean, nasty and only thinking of herself.
List of characters
This is a list of Mr. Men, Little Miss and other special characters that appear in this book.
Title character in other appearances
Trivia
She once appeared on a set of Little Miss Stickers in 1996.
She may get confused as Little Miss Selfish, but Little Miss Selfish is Little Miss Show-Off's second name.
Counterparts
See Counterparts Wiki.
Gallery
See also
External links
| | | |
| --- | --- | --- |
| V · T · E | Roger Hargreaves | |
Community content is available under
CC-BY-SA
unless otherwise noted.