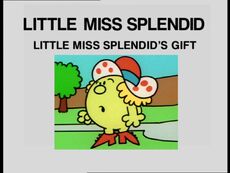 Little Miss Splendid's Gift is the pilot episode of Mr. Men and Little Miss. It was first broadcast on 21 August, 1994.
Plot
Little Miss Splendid is getting ready to go on holiday. But who are the Mr. Men going to admire whilst she is away? She decides to throw a big party and invites all the Mr. Men and Little Misses in town to give them a life-size statue of herself. Now they will have something to admire during their absence! But she hadn't banked on Little Miss Magic transforming Little Miss Splendid's beautiful statue into hundreds of miniature dolls…
Characters
UK Voices
US Voices
Len Carlson - Mr. Snooty, Mr. Tall
Alyson Court - Little Miss Magic
Neil Crone - Mr. Nosey, Mr. Small
Catherine Disher - Little Miss Splendid
Ron Rubin - The Narrator
Trivia
This is the only Mr. Men and Little Miss episode to utilise traditional hand-coloured cel animation. All subsequent shorts onward use digital ink and paint.
Gallery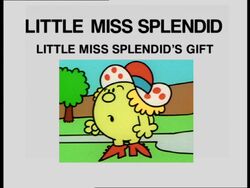 Template:Mr. Men and Little Miss Episodes