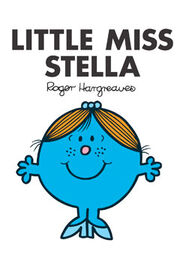 Little Miss Stella is part of the Little Miss series of books, by Roger Hargreaves. She is based on a real person: Stella McCartney, a fashion designer and daughter of rock star Paul McCartney. Produced in a limited edition of 1000 books as fashion show invitations.
Little Miss Stella is good at making clothing for the Mr. Men and Little Misses, but when she runs into a little miss named Little Miss Nobody, she needs to find a way to make her a somebody.
International publications & translationsEdit
This is a list of alternate titles for this book being published internationally.
List of CharactersEdit
This is a list of Mr. Men, Little Miss and other special characters that appear in this book.
Pictures OnlyEdit
She is the first character based on a real person. The second is Little Miss Spice Girls, who are based on a band, Spice Girls.
CounterpartsEdit
See Counterparts Wiki.
External linksEdit
[1] Link to the intro
[2] Watch on YouTube
| | | |
| --- | --- | --- |
| V · T · E | Roger Hargreaves | |