Little Miss Sunshine is the fourth book in the Little Miss series by Roger Hargreaves.
Little Miss Sunshine
Colour: Yellow
Shape: Round
Gender: Female
Hair: Yellow (Dark blonde) in braids
Family: None
Friends: Mr. Happy, Little Miss Giggles, Mr. Tickle, Mr. Bounce, Mr. Funny, Mr. Scatterbrain, Miss Chatterbox, Mr. Grumpy (one-sided)
Love: Mr. Happy
Rivals: Mr. Grumpy (one-sided), Mr. Rude, Miss Bossy
Occupation: Host's Assistant (New show only)
Species: Shaped Human
Likes: Sunshine, Good Manners, Being Polite, Fish Chowder, Flowers, Music, Buttons, Polka Dots, Beads, Jewelry, Pretty Things, Bubbles, Trains, Rainbows, Happiness, Joy, Laughter, Unicorns
Dislikes: Darkness, Evil, Fear, Sadness, Little Miss Bossy, Mr. Rude, Dragon Fish
Release date: 1981
Job: Cheering people up
Features: Red bows
Nationality: American (US) Somerset (UK) 
Actresses: Pauline Collins (1983) Jill Shilling (1995-1997) Alyson Court (1997-1999) Alicyn Packard (2008-present) Jo Wyatt (UK-2008-present) Emma Tate (UK-2009-present)
Catchphrase: Love em, Love em,Love em!
Story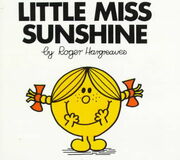 There was a king who lived in a castle in Miseryland. Little Miss Sunshine was coming home from holiday. She saw a sign saying "This way to Miseryland." So she was on her way to Miseryland. She saw a guard at the bridge door. Little Miss Sunshine gave the guard a big smile. Then the guard took her to see the king of Miseryland and she had an idea. So Little Miss Sunshine and the king went back to her car. Finally she made a new picket sign saying "Laughter Land" and she boomed an enormous laugh then the king laughed too. Miss Sunshine then goes home and meets Mr Happy, who was on his evening stroll. Little Miss Sunshine is one of the happiest people in the world, besides Mr. Happy, Mr. Cheerful, and Little Miss Giggles.
The Mr. Men Show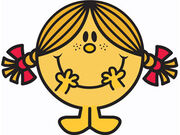 Little Miss Sunshine is a reoccurring character in the 2008 TV series The Mr. Men Show.
She kept her looks and personality except her nose and hair change from yellow to light tan, and runs a morning show called "Good Morning Dillydale" with her partner, Mr. Happy. Her voice is very perky. Her house is pink, with a flowerbed, and flowers on the house as well. In the UK and US Versions, she is cutely voiced by Alicyn Packard and Jo Wyatt (Season 1), Emma Tate (Season 2). She is first seen in Physical.
International publications & translations
This is a list of alternate titles for this book being published internationally.
List of characters
This is a list of Mr. Men, Little Miss and other special characters that appear in this book.
Title character other appearances
This is a list of other books that the title character has appeared in.
She also appears in some of the episodes in Mr. Men and Little Miss.
Trivia
Counterparts
See Counterparts Wiki.
Gallery
Merchandise
See also
| | | |
| --- | --- | --- |
| V · T · E | Roger Hargreaves | |
External links
Community content is available under
CC-BY-SA
unless otherwise noted.