Little Miss Tiny

Book No.

5

Release Date

July 31, 1981

Preceded by

Followed by
Little Miss Tiny is the fifth book in the Little Miss series by Roger Hargreaves.
About her
Colour: Pale pink
Shape: Round
Gender: Female
Hair: None
Family: Unknown
Friends: Little Miss Late, Little Miss Trouble, Little Miss Fickle, Little Miss Tidy, Mr. Muddle, Mr. Clumsy, Mr. Bounce, Mr. Tall, Mr. Strong, Mr. Funny, Mr. Greedy, Mr. Silly, Mr. Small
Personality: Sweet, friendly, cute, childlike, adorable,
Job: Being tiny
Features: Blue bow
Voice Actresses: Pauline Collins (1983), Jill Shilling (Mr. Men and Little Miss), Catherine Disher (US dub)
Story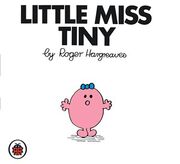 Little Miss Tiny is picked on because she is so small. The story begins where Little Miss Tiny wakes up, exits the mouse hole, and explores outdoors and is saved by Mr. Strong, in which she makes new friends afterwards.
International publications & translations
This is a list of alternate titles for this book being published internationally.
Madame Petite (French)
Dona Menudita (Spanish)
Unsere Dora Däumling (German)
Mevrouwtje Mini (Dutch)
Senhora Pequenina (Portuguese)
Η Κυρία Τοσοδούλα (Greek)
Lille Frøken Fnug (Danish)
Lille Frøken Bitteliten (Norwegian)
Mała Maciupka (Polish)
玲瓏小姐 (Taiwan)
밤톨양 (Korean)
おちびちゃん (Japanese)
คุณหนูจื๊ดจิ๋ว (Thai)
List of characters
This is a list of Mr. Men, Little Miss and other special characters that appear in this book.
Title character other appearances
This is a list of other books that the title character has appeared in.
Books
Television
Trivia
She is friends with Jack in The Christmas Letter, Mr. Funny, Mr. Greedy, Mr. Silly, Mr. Strong, and Mr. Small in her story, Mr. Clever in Mr. Clever Flies his Kite, Mr. Bounce in An Unforgettable Sunday For Little Miss Tiny, Little Miss Brainy, Little Miss Giggles, and Mr. Quiet in Lunch with Little Miss Tiny, and Mr. Happy in A Very Happy Day For Mr. Happy and Mr. Rude's story and Little Miss Inventor in Mr. Men - Adventure With Minibeasts, Little Miss Dotty in Little Miss Dotty Goes to Home Farm and Mr. Daydream and Mr. Christmas in Meet Father Christmas.
She only dislikes Mr. Mean for trapping her in his house for a year in The Christmas Letter and Mr. Rude for mocking her height.
She's been turned big twice, once in a dialogue-less comic featuring her and Little Miss Magic and in Mr. Men - Adventure With Minibeasts when Little Miss Curious fiddled with Little Miss Inventor's shrinkometer making her grow big.
Counterparts
See Counterparts Wiki.
Gallery
Screenshots
See also
| | | |
| --- | --- | --- |
| V · T · E | Roger Hargreaves | |
External links
Community content is available under
CC-BY-SA
unless otherwise noted.