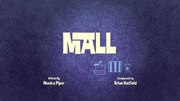 Mall is the tenth episode (second part of the fifth episode) of Season 1 of The Mr. Men Show.
Synopsis
The tides of an upcoming escalator prove no match for a downwardly directed Mr. Stubborn; Mr. Messy's cheese shop is a stinky success; and Little Miss Calamity learns the perils of vibrating furniture.
Plots
Bumpers
Characters go into a photo booth.
Mr. Nervous goes in, but comes out almost immediately! His photos show that Miss Scary had scared him.
Mr. Lazy goes in. His photos show him slowly dropping off and going to sleep.
Mr. Scatterbrain goes in. His photos show the photo booth filling with water.
Miss Daredevil goes in and the photo booth takes off. Her photos show she had gone to the moon.
Trivia
Sock cheese makes a debut in this episode.
Mr. Bump's Song can only be heard in the U.K. In Live Shows, the original Mr Men Show Website, Picnics, Radio, Seashore and Parties.
Mr. Lazy's and Mr. Stubborn's Videos are shown in this episode.
Throughout the episode, none of the characters are shown through the windows of the stores.
There's no top floor in the escalator.
Mr. Grumpy's hat when Mr. Bounce hit him resembles his book counterpart.
The photos Miss Daredevil take implies that she took them on the moon, but the booth doesn't go up when she already takes the photos.
It is unknown that how many stores are in there as on the bottom floor.
Dub edits
Mr. Lazy asking

Herbie Homemaker

to make a chip and dip is adjusted to "chip and a dip" in the UK version.
Real-World References
Optimus Prime and R2-D2 make a cameo at Mr. Tickle's robot store.
When Mr. Scatterbrain is knitting and Mr. Bounce interrupts him, Mr. Scatterbrain says "Yeeeesss?" in the style of the late Frank Nelson.
Songs
Gallery