Mr. Adventure

Book No.

49 (UK)
50 (US and Canada)
51 (France)

Release Date

4 October 2016

Preceded by

Followed by
Mr. Adventure is the forty-ninth book in the Mr. Men series by Roger Hargreaves and the sixth one created by Adam Hargreaves. It was released on 4 October 2016.
Story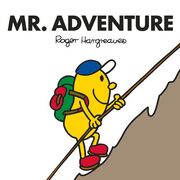 Mr. Adventure loves to see the world, but one day he went to the beach and he thought that it was boring. He wanted the thrill and excitement of an adventure holiday. When he does get the chance to go, he would go to places such as remote islands, diving under the sea to discover sunken shipwrecks, or a tropical jungle. Unfortunately, he couldn't afford a holiday. So he decides to get a job as a postman to earn enough money for a holiday. He thought that posting letters into mailboxes were boring. To make things more interesting, he climbed the wall of each house and posted each letter down the chimney.
Next job that he got was a plumber. Once again, he found that fitting pipes and repairing rooftops was boring. So he took out his canoe while fixing a leak. To him, it makes everything look exciting, but other people don't like it when they have their houses flooded. Then he got another job as a firefighter, which he didn't find boring to his liking at all. After the firefighting job, Mr. Adventure can afford to travel the world.
International publications & translations
This is a list of alternate titles for this book being published internationally.
Monsieur Aventure (French)
Mister Abenteuer (German)
Mr. Aventurero (Spanish)
Ο κύριος Τολμηρός (Greek)
冒险先生 (Màoxiǎn xiānshēng) (Chinese)
Trivia
He is the only Mr. Men character to feature a geographical landmark on his front cover. In this case, it is a mountain.
His prototype design depicted him as a boy scout.
He has a job as a firefighter.
Even though Mr. Adventure is the forty-ninth book in the Mr. Men series, he is placed forty-eighth skipping Mr. Marvelous in the Mr. Men Library in the UK release.
Counterparts
See Counterparts Wiki.
List of characters
Title character and other appearances
Television
Kids Eat Free

Heathrow Check In

Mr. Adventure Goes to the Gate

Mr. Adventure Helps a Friend

Mr, Adventure Goes to Play

Catches the Heathrow Express
Authors
Gallery
Video
External links
| | | |
| --- | --- | --- |
| V · T · E | Roger Hargreaves | |