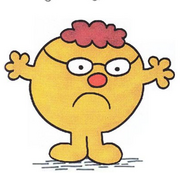 Mr. All-Goes-Wrong, also known as Mr. Careless, is a Mr. Man that only appears in Little Miss All-Goes-Well.
His French name is Monsieur Tout-Va-Mal.
About him
Colour: Gold
Shape: Round
Gender: Male
Features: Glasses
Hair: Brown and curly
Personality: Hopeless, dramatic, careless, negative
Family: Possibly Little Miss All-Goes-Well
Likes: Being careless and making a big deal out of small problems
Dislikes: Being pushed around
Counterparts
See Counterparts Wiki.
Gallery